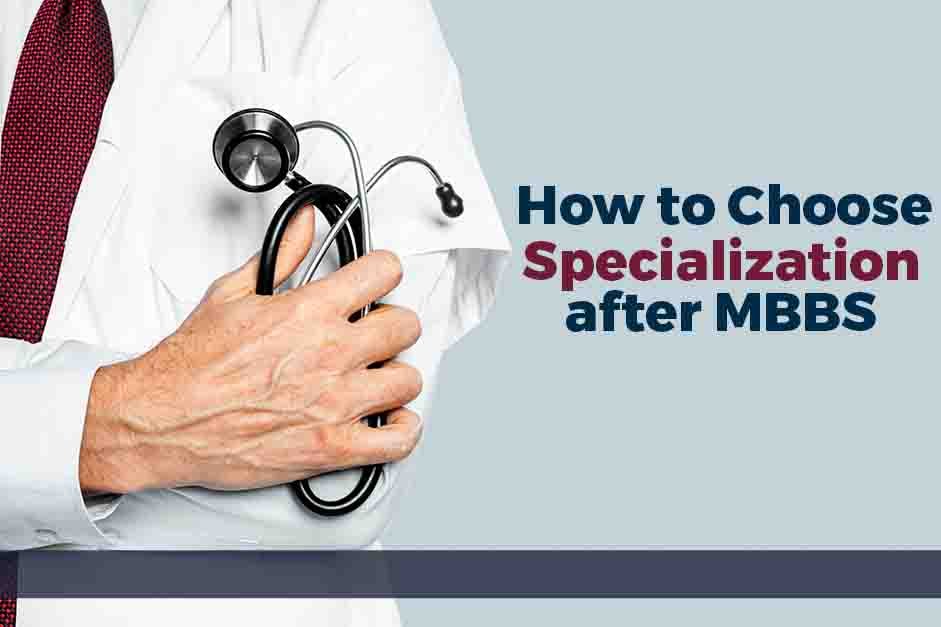 Choosing a postgraduate ( PG ) specialization after MBBS can be a daunting decision, but here are some factors to consider that might help you to choose the perfect course for you.
Personal interests and career goals:  consider what area of medicine you find interesting and enjoyable to study. Just focus and think about long-term goals and which specialities will take you high in your career. 
Job prospect: look into the course which has high demand in your country or region. And always choose the course in which you have high interest. and it is fine to change your career path when you realize you are not passionate about it. your interest is the first priority.
Availability of training programs: check the availability of the programs for the specializations in which you have a high level of interest.  
Work-life balance:

 

it is very important for the aspirants to choose the specialties in which they can maintain the work-life balance. Some specialities demand long hours and on-call duties, while some offer more flexible work schedules. 
Salary and compensation:

 

why do students prefer medical education ? one reason is highly reputed and the other one is it rewards high salary and compensation. so look into the salary and compensation packages for different specialities. Always keep in mind that some specialities may be more financially rewarding than others.
Professional development opportunities:

 

Different specialities offer different opportunities. opportunities related to research, teaching and leadership roles.
 Evaluate your strengths and weaknesses: understanding your strengths and weaknesses can help in choosing the best specializations after MBBS. Consider the specializations which you explore during the MBBS course. 
Go for the most reputed college:

 

The reputation of the institution where you pursue your postgraduate specialization can also play an important role in your future career prospects. Go for the institution which has a good track of producing successful doctors in your chosen field.
Some Best PG Course after MBBS
 MD/MS in clinical medicine: it refers to the specialization of the diagnosis, treatment and prevention of diseases and involves a combination of clinical practice and research. 
MD/MS in Surgery: it refers to surgical procedures both major and minor, and also includes the combination of practical and research.  
MD in Pediatrics:

 

it refers to a focus on the medical care of infants, children and adolescents and also includes treatment and diagnosis. 
MD in Obstetrics and Gynecology:

 

it refers to the medical and surgical care of women during pregnancy, childbirth, and postpartum, and includes diagnosis and treatment of gynaecological disorders.
MD in Radiology: it refers to the use of imaging technology to diagnose and treat diseases, including X-rays, CT scans, MRIs, and ultrasounds.
MD in Anesthesiology: it refers to the administration of anesthesia to patients undergoing surgical procedures and other medical treatments.
Ultimately, the choice of PG specialization will depend on your personal interests, career goals, and the specific opportunities available to you. It may also be helpful to speak with practicing doctors in different specialities and attend medical conferences or seminars to gain a better understanding of the various fields.  
AR group of education have 10 years of experience in NEET PG counseling. Hence if you want to support yourself throughout your journey in NEET PG 2023  just contact the team of AR Group of education. They will guide you through the entire process.