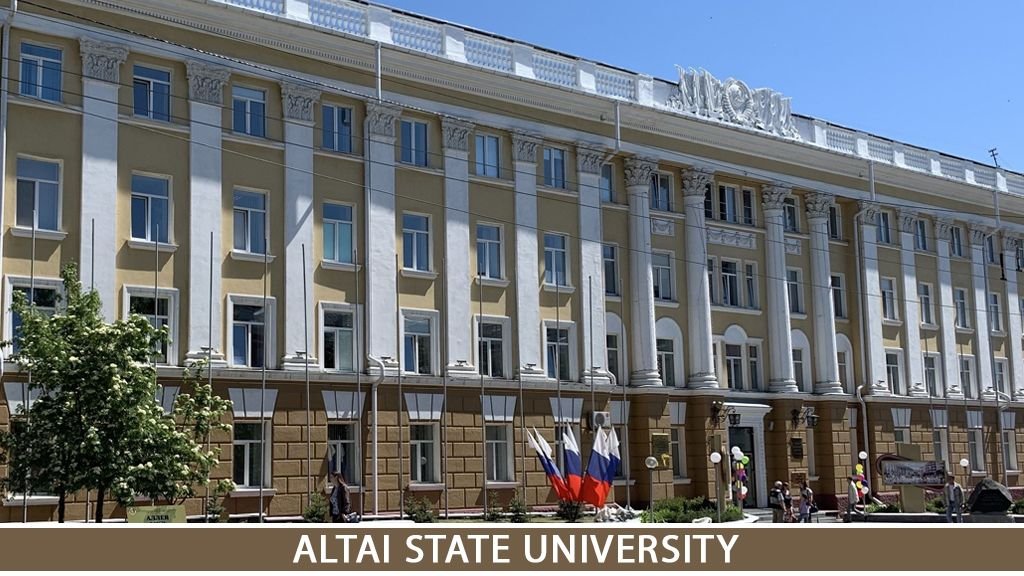 Altai State Medical University, Russia is one of the leading medical universities in Russia in the West Siberian part, conducting high-quality medical training. Altai State Medical University, Russia is located in the southeast of Russia in Barnaul city, the capital of Altai Krai. For sixty years the Altai State Medical University has been a supply of qualified specialists engine for the regional healthcare system. 25 thousand doctors and pharmaceutics have graduated from the university, who work in the Altai region, in the Republics of Altai and Tuva, and in countries near and far abroad. 90% of doctors and pharmaceutics in the Altai region are AGMU alumni.
Altai State Medical University – a unique holistic body that brings together doctors both on the basis of professional communication and on the basis of common interests and hobbies. University absorbed the experience and achievements of the pupils of different generations. Society graduates of all generations Altai Medical University – unbreakable brotherhood.
Altai State Medical University is administered by the Ministry of Health of the Russian Federation. It is one of the major hubs for research, education, and cultural exchange. The international community in the university shares their social heritage with each other and hence adopts each other's culture. Altai Medical University has produced more than 30 thousand graduates. There are more than 4000 students studying yearly at AGMU. Most of the students are from the Russian Federation with about 1000 international students.
International Educational Activities
Altai State Medical University began accepting foreign students in 1991. In February 1994, the faculty of foreign students has been organized. The faculty carries out the preparation of foreign students in the specialties: "General Medicine", "pharmacy", "Pediatrics", and "Dentistry".
In 2001, the university started a new department to work with foreigners. Today, Altai medical university has about 2000 international students from India, Sri Lanka, Israel, Palestine, Jordan, China, Mongolia, Morocco, and Afghanistan, as well as citizens from neighboring countries: Ukraine, Kazakhstan, Tajikistan, Belarus, Armenia, and Uzbekistan.
All about MBBS study at Altai State Medical University
| | |
| --- | --- |
| What is the language of teaching while studying MBBS? | English Medium |
| Duration for MBBS Course at Altai State Medical University? | 6 Years (5+1) |
| What is the Eligibility for Admission in MBBS? | NEET Qualified, PCB 50% min. |
| How many intakes for admission to the MBBS course? | One (September only) |
| What is the pay system of Tuition Fees? | Half Yearly from 2nd-year |
| Important dates for applying to University | June 1st to October 30th |
| University Type |  Public University |
| Recognition of Altai Medical University | WHO and MCI Approved |
Eligibility for Admission
Eligibility must be checked by candidates before filling the application form. Altai Medical University is one of the most famous universities in Russia. The University offers various undergraduate, postgraduate & doctoral courses There are no entrance exams for admission, as the admissions are solely subject to a first come first served basis.
Pass 10+2 examination with Physics, Chemistry, Biology, and English subjects (Min. 50%)
Marks Requirement: The candidate must secure 50% marks in their 12th standard from the Science stream.
Age: Candidate must have attained the age of 17 years at the time of admission.
NEET: Candidate must have qualified in the NEET exam.
Science and Innovation:
Innovative scientific development is a priority activity of Altai State Medical University. The desire of the university to meet modern trends of state policy in the field of innovation in science and technology is the basis of the successful implementation of scientific projects by AGMU scientists. Altai State Medical University is actively involved in the implementation of innovative projects in the field of basic and clinical research. AGMU scientists' initiatives receive recognition at the federal and international levels. A reflection of the professionalism of the scientific staff of the University is the high degree of trust on the part of government customers and investors in innovative scientific research. The development of the resource base and the significant potential of research projects define the vector of development of the modern university.
Medical faculties of Altai State Medical University
In total, there are 60 departments and 6 faculties at Altai State Medical University:
Medical Faculty
Faculty of Pediatrics
Faculty of Pharmacy
Faculty of Dentistry
Faculty Of Medicine And Preventive Studies
Faculty of Foreign Students
Advantages of Pursuing MBBS at Altai State Medical University
Medical programs are approved and recognized by WHO and MCI/NMC India.
High teaching standards and methods are extraordinarily enhanced and high.
Latest medical technologies and methods.
Great exposure to practical knowledge will be provided to students.
Low-Cost Fee structure and affordable living cost
Hassle-free easy admission process
No donations needed
Staff at ASMU focuses on the smart aspects of teaching
Students will experience individual attention from teachers and experts while studying
Professional support to enhance the creative potential
Altai Medical University Hostels
Altai State Medical University has three hostels, which are located in the center of the city. The dorms are close to the main public transport routes, which makes the most important destinations accessible. There are playing and sports grounds, and reading halls which help use our students' time most efficiently and in an enjoyable way.
The hostel is closely linked to ATMs, phone recharge booths, retail shops, and cafeterias.
While staying in the hostel, medical students can use the gym, swimming pool, reading rooms, and common areas.
AGMU Library
The library's fund has over 3,30,000 copies of literature including abstracts of medical dissertations, journals, and more than 200 titles of periodic editions nowadays. The library represents the largest storehouse of medical literature in regions of Siberia. The collection of scientific information, educational, and periodical literature makes the library a very valuable source for the University's teachers and students in their educational and scientific works. The library is elucidated with Internet connections and CLIS (computer-aided library – informational system) has been introduced. Altai State Medical University has its edit-publishing center and small-scale plant, where the composition of scientific works by the workers, monographs, and materials from student conferences are printed.
If you are considering pursuing an MBBS in Russia, then Altai State Medical University should be on your list of options. We, at A R Group of Education, can help you get admission to A ltaiState Medical University.