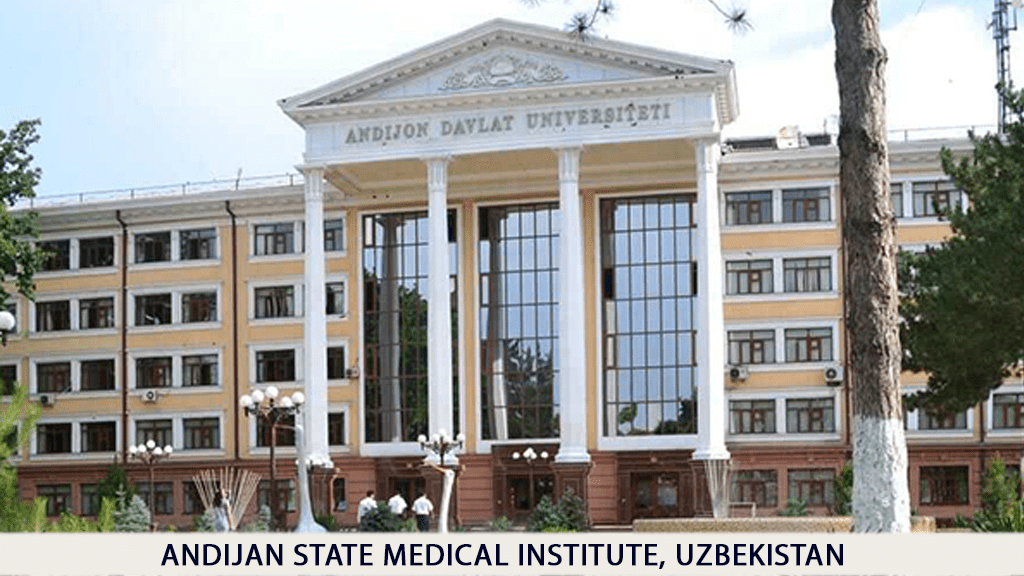 MBBS is a medical degree that must be acquired from a prestigious institute of international recognition, such as Andijan State Medical Institute, Uzbekistan. Over lakhs of universities and institutes offer medical courses around the globe but the need to check for the best suitable for yourself is important. It is only possible if you have knowledge about the universities and it is impossible for an MBBS aspirant to visit each university in the world so essential information required about universities or institutes is provided here.
Today we have brought an institute from Uzbekistan to your knowledge namely Andijan State Medical Institute, Uzbekistan. ASMIU is one of the leading institutes situated in the ancient cities of Fergana Valley. Andijan City was founded in 1955. Andijan State Medical Institute is a national institute in the Republic of Uzbekistan. Andijan State Medical Institute is providing education in over 56 multiple departments.
More Information on Andijan State Medical Institute, Uzbekistan MBBS Course:
| | |
| --- | --- |
| Year of Establishment | 1955 |
| Type | Government |
| Recognition | NMC and WHO approved |
| Eligibility | 50% in Physics, Chemistry and Biology Aggregate |
| Course Duration | 5 Years |
| NEET | yes, compulsory |
| IELTS/TOFEL | Not Required |
| Medium of Teaching | English |
Andijan State Medical Institute, Uzbekistan ranking
It is 57 among the universities in the country whereas Andijan State Medical Institute ranking is 10967 all over the world.
Recognition and accreditation of Andijan State Medical Institute, Uzbekistan
The college is recognized and accredited by various national and international organizations such as the Medical Council of India (NMC), World Health Organisations (WHO), and the Ministry of Higher and Secondary Specialized Education, Uzbekistan.
Faculties at Andijan State Medical Institute, Uzbekistan:
Faculty of Medicine
Faculty of Paediatrics
Faculty of Dentistry
Faculty of Advanced training and retraining of physicians
Andijan State Medical Institute, Uzbekistan MBBS course duration
The course duration is of complete 6 years which is divided into 5 years of course and 1 year of internship.
Reasons for choosing Andijan State Medical Institute, Uzbekistan:
It has a beautiful campus area within which there are academic buildings and hostels.
The academic buildings have study classrooms, well-equipped laboratories, and a library.
It imparts proper practical knowledge with theoretical knowledge to students.
Students have multiple options to choose from and a wide range of specialization courses are offered.
It has an enormous library providing 250000+ textbooks, references, journals, research papers, encyclopedias, editorials, etc. Also, It also has reading halls and an electronic library with the latest articles on medicine.
They have a huge team of highly qualified and skilled professors.
It has tie-ups with other universities providing a wide range of possibilities for great exposure and learning through student exchange programs, and scientific research.
They impart education in the medium of language used for instructions is English.
Other facilities at Andijan State Medical Institute, Uzbekistan:
ASMIU has hostel facilities for international students.
ASMIU hostels have dormitories and fully furnished rooms.
All the necessary facilities are provided at hostels such as Wi-Fi connectivity, AC, heater, bed, cupboard, electric appliances, etc.
ASMIU cafeteria or canteen provides multiple cuisines that too with proper care of hygiene.
ASMIU has a multicultural environment as students from different parts of the world arrive at the ASMIU for study.
Eligibility criteria for ASMIU admission:
The minimum age for ASMIU admission is 17 years and the maximum is 25 years.
The applicant must qualify for the NEET entrance examination with a good score for the Andijan State Medical Institute admission.
The applicant must pass higher secondary school with a good percentage (at least 50%).
Documents required for ASMIU admission:
Filled and signed application form taken from Andijan State Medical Institute official website
Copy of Higher Secondary School certificate
Copy of passport valid for a minimum of two years
Recent passport size photographs
Birth certificate
Medical certificate
Migration certificate
ASMIU admission procedure:
For the ASMIU admission procedure, first, an applicant has to choose the course and then fill the application form and mail it to the ASMIU attached with required documents.
Once ASMIU receives mail and verifies the documents, a confirmation mail is sent by ASMIU to confirm the ASMIU admission.
After receiving the confirmation letter, the applicant must pay the Andijan State Medical Institute fee according to the ASMIU fee structure.
Then an invitation letter, visa support letter, and admission letter are sent by courier to the applicant.
Once the invitation letter is received, the applicant must visit the embassy for a visa application.
ASMIU admission procedure ends here by getting a visa and then the applicant becomes a student of ASMIU.
Our Assistance for MBBS Admission at ASMIU:
The A R Group Of Education is one of the principal consultants in the field of international studies. It has assisted around 10,000 students with their immigration applications. Through overseas education, the agency can support you in achieving your goals. Furthermore, they are responsible for all major and minor procedures such as profile evaluation, university shortlisting, application preparation, admissions access, and visa procedures, among others. We can be among the pioneers in successful overseas education because of the agency's systematic working style. With the help of the agency, you'll be able to go forward in the appropriate direction.
The agency deals with the following aspects:
Application process
Proper assistance
Accurate counselling
Reliable information