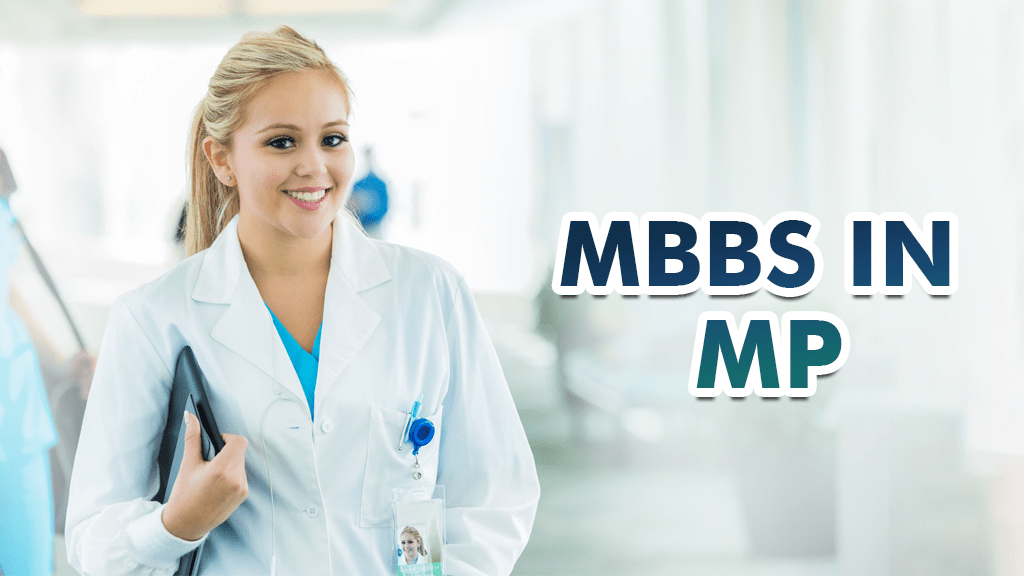 Day by day, the advancement in science and medicine is increasing. Each day, medical professionals are coming up with discoveries and inventions that help human beings and animals stay fit and improve their health conditions. Madhya Pradesh is one of the biggest states in India and is home to some excellent educational institutions in different streams. MBBS IN MP is well-known among medical aspirants and attracts students from all over the country. Over the last few years, they have found a cure for many diseases that were not available formerly. Thus, the need for doctors and other professionals related to medicine is increasing.
Bachelor of Medicine, Bachelor of Surgery, popularly called MBBS, is a medical degree awarded to a medical student after the completion of a bachelor's degree. The duration of the course is five and a half years. Students who opt for science with biology in their class 11th are most likely to pursue MBBS after the completion of senior secondary education. They need to score a minimum of 50% score in their class 12th to be eligible for the program. After that, the candidate is required to appear for entrance examinations, which take place both at the national and university level. Some colleges conduct their entrances, but most of the colleges across India consider NEET as the qualifying exam for pursuing a degree in MBBS. The test score is also valid if the candidate wants to achieve an MBBS degree abroad.
MBBS has various specializations, and a one-year internship is a mandatory part of the course. It helps the candidate to gain practical knowledge and make it ready for industry. It also helps them to become more successful professionals when they start to work as a full-time employee. After completing MBBS, the candidate can pursue his or her further studies such as MD.
Many who prefer to work after MBBS can surely get into various professions. It is one of the work fields where there will never be restrictions for people to get into different jobs. There is a great career scope in the medical field as an individual acquires job security and a handsome salary as well. It can perform jobs at hospitals, private clinics, nursing homes, laboratories, medical colleges, health centres, etc.
 Here is a list of medical colleges in Madhya Pradesh that offers MBBS for medical aspirants. We have also mentioned other information such as eligibility criteria, admission procedure, specializations available, and career prospects, for MBBS IN MP.  Moreover, some of the top recruiting companies after the completion of the MBBS in MP is also mentioned.
MBBS Colleges in Madhya Pradesh: Specializations Available
There are three levels of an MBBS degree that are pre-clinical, clinical, and para-clinical. Following are the specializations available –
1. Anatomy:  It is the study of body parts and their structure in a living creature. It includes human, animal, and plant anatomy.
2. Biochemistry:  The subject deals with the chemical procedures that take place in a living thing.
3.Physiology:-  It involves the study of human beings and animals, and their body functions, including tissues, organ systems, cells, etc.
4.Forensic Medicines:-  It is one of the science fields where forensic professional analyzes and interprets pieces of evidence related to any crime. It does in-depth research on the person's blood, fingerprints, DNA, etc.
5.Pathology:-  Pathology studies various aspects, causes, and effects of diseases.
6.Pharmacology:-  It deals with the examination of various drugs and their effects on living creatures.
7.Microbiology:  Microbiology discusses organisms that are extremely small and tiny and that are not visible through naked eyes.
8.Community Medicine:-  It is a part of medical science that concerns promoting one's health and at the same time teaches how to prevent diseases.
9.Psychiatry:-  This kind of study is all about a living being's mental and psychological health.
10.Dermatology:-  The study of dermatology involves researching and examining the skin of human beings and animals.
11.Obstetrics and Gynecology:-  The study entirely focuses on a female's body. It involves researching and studying its body, health, and various issues related to it.
12.Anaesthesiology:-  It discusses the necessity, and effects of anesthesia needed for surgical treatments for human beings and animals.
13.ENT:-  It is also called otolaryngology. ENT is a medical field that deals with body parts like ears, throat, and nose.
14.Ophthalmology:-  The branch specializes in studying eye disorders.
15.Orthopedics:-  It focuses on the issues regarding joints, bones, muscles, tendons, nerves, and ligaments.
MBBS in MP: Eligibility Criteria
Even though there are some eligibility criteria mentioned by the respective college or university, all students must meet all the norms set by the National Medical Commission. Some of the criteria that are common amongst all the medical colleges are the following: –
The aspirant must have completed their higher secondary education from a recognized board with a minimum aggregate of 50%.
The candidate must have had core subjects that are Physics, Chemistry, Biology, and English in their class 12th.
MBBS in MP: Admission Process
The admission process entirely depends on the entrance examination. An aspirant who wants to pursue MBBS in india after class 12th must appear for entrances organized at the national and college level. Once it meets the cut-off, he or she is eligible for admission. It also depends on one's rank in the entrance test.
The most common national entrance is NEET. It is a mandatory exam to be eligible for admission in almost all medical colleges. Government colleges like AIIMS conduct their entrance test for all the branches across the country.
MBBS in MP: Top Colleges offering MBBS in Madhya Pradesh
Name of the College
The A R Group Of Education Rating
Acceptable Test
Sri Aurobindo Medical College and Postgraduate Institute
AAA+
NEET
Netaji Subhash Chandra Bose Medical College and Hospital
AAA+
NEET
Gajra Raja Medical College
AAA+
NEET
Bundelkhand medical College
AAA
NEET
Shyam Shah Medical College
AAA
NEET
Rani Durgavati Vishwavidyalaya
AAA
NEET
All India Institute of Medical Sciences
—
AIIMS Common Entrance Test
LN Medical College and JK Hospital
—
NEET
RD Gardi Medical College
—
NEET
RKDF Medical College Hospital and Research Centre
—
NEET
Mahatma Gandhi Memorial Medical College
—
NEET
Index Medical College Hospital and Research Centre
—
NEET
Gandhi Medical College
—
NEET
Chirayu Medical College and Hospital
—
NEET
People's College of Medical Sciences and Research Centre
—
NEET
Amaltas Institute of Medical Sciences
—
NEET
Modern Institute of Medical Sciences
—
NEET
Sarvepalli Radhakrishnan University
—
—
Atal Bihari Vajpayee Government Medical College
—
NEET
Government Medical College, Ratlam
—
NEET
Government Medical College, Khandwa
—
NEET
Neta ji Subhash Chandra Bose Medical College and Hospital, Jabalpur
—
UG Medical Entrance Exam
Government Medical College, Datia
—
NEET
Sarvepalli Radhakrishnan University
—
—
Devi Ahilya Vishwavidyalaya
—
NEET
Jiwaji University, Gwalior
—
NEET
Career options available after MBBS with expected salary
Career Option
Average Salary Per Annum
Physician
Rs. 6 – 7 lakhs
Doctor
Rs. 4 – 5 lakhs
Junior Doctor
Rs. 3 – 4 lakhs
Researcher
Rs. 2 – 10 lakhs
Scientist
Rs. 3 – 7 lakhs
Junior Surgeon
Rs. 8 – 11 lakhs
Top employers for MBBS Graduates
FEES STRUCTURE FOR MBBS IN MADHYA PRADESH:
College Name
Course
Fees/ Year
NRI Fees
PEOPLES COLLEGE OF MEDICAL SCIENCE BHOPAL
MBBS
1240000
3000000
SRI AUROBINDO INSTITUTE OF MEDICAL SCIENCE INDORE
MBBS
928000
2784000
R D GARDI MEDICAL COLLEGE UJJAIN
MBBS
833000
2915500
INDEX MEDICAL COLLEGE INDORE
MBBS
1225700
3677100
L N MEDICAL COLLEGE BHOPAL
MBBS
1241000
3723000
CHIRAYU MEDICAL COLLEGE BHOPAL
MBBS
1141000
3423000
AMALTAS MEDICAL COLLEGE DEVAS
MBBS
965000
2895000
R K D F MEDICAL COLLEGE AND RESEARCH CENTRE BHOPAL
MBBS
1205000
3615000
Mahaveer Institute of Medical Science & Research, Bhopal
MBBS
833000
2499000
We, at The A R Group Of Education guide you on each step of your journey and help you to connect the bricks to get a better future for you. We have highly skilled experts with an experience of more than 10 years in this field to guide you choose the correct colleges for MBBS in Madhya Pradesh. Hence, you may consult us to clear any kind of dilemma regarding your career.
FOR MORE QUERIES, KINDLY CONSULT THE A R GROUP OF EDUCATION.