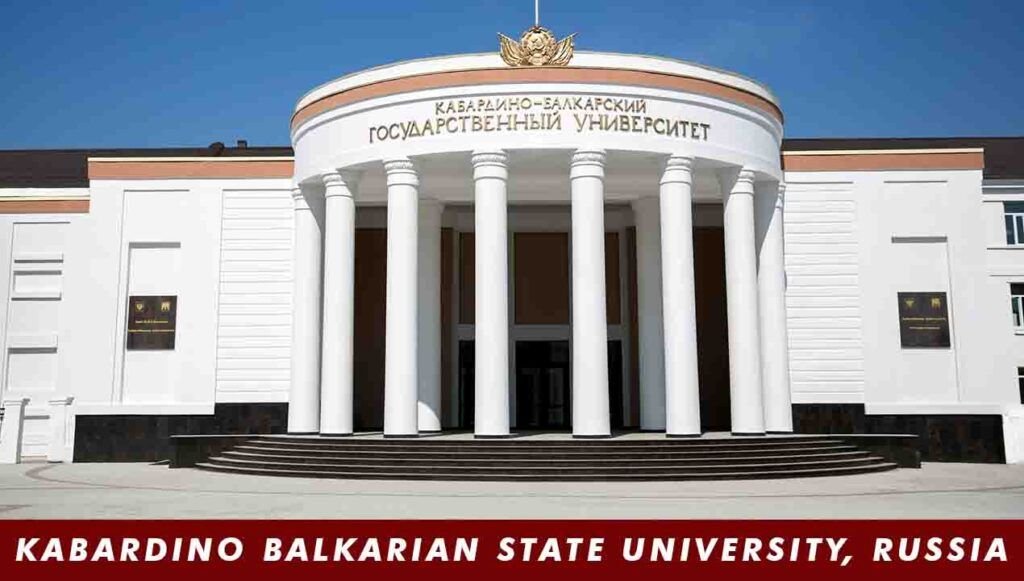 Russia has become a favored choice for Indian students seeking to pursue an MBBS in Russia due to its winning combination of top-notch education and affordable costs. With a remarkable global reputation, Russian medical universities dominate the charts with approximately 30 institutions featured in world rankings. As a result, Russia proudly holds the 8th position as a leading destination worldwide for aspiring medical students looking to study abroad.
About Russia
| Population | 147,182,123 |
| --- | --- |
| Area | 17,098,246 km2 |
| Capital City | Moscow |
| Language | Russian (official), Tatar, Ukrainian, Bashkir, etc. |
| Climate | Warm to hot in dry summers and (very) cold winters with temperatures of -30°C and lower |
| Literacy Rate | 100% |
| Time Zone | UTC+2 to +12 |
| Currency | Russian ruble (₽) (RUB) |
| Weather | June to august ( summer ) , september to october (autumn) , november to march ( winter ) , april to may ( spring ) |
| | |
Kabardino Balkarian State University, located in Nalchik, Kabardino-Balkaria, Russia, is the best institution that was established in 1957. Renowned for its exceptional MBBS in Russia, the university offers Indian students a world-class education and is considered one of the best medical universities to study MBBS in Russia.
The university takes pride in its streamlined admission process for international candidates, making it accessible. With a rich academic history spanning over 65 years, it has cultivated a reputation as one of the most sought-after MCI/NMC Approved Medical Colleges in Russia.
About Balkarian State Medical University
| Year of Establishment | 1957 |
| --- | --- |
| Type | Government |
| Recognition | NMC and WHO approved |
| Eligibility | 50% in Physics, Chemistry and Biology Aggregate |
| Course Duration | 6 Years |
| NEET | Yes, Qualifying Marks |
| Medium of Teaching | English |
| | |
Why Choose Kabardino Balkarian State University?
Kabardino Balkarian State University offers low and affordable tuition fees specifically designed to accommodate Indian students, making it an attractive option for those seeking quality education at a reasonable cost.The university does not require Indian students to undergo any entrance test, simplifying the admission process and providing a straightforward path for enrollment.The direct admission process enables Indian students to secure their spot in the university without any additional complications or intermediaries. English Language programs are available at the university, ensuring that Indian students can comfortably pursue their studies without language barriers. The program at Kabardino Balkarian State University provides Indian students with better opportunities to enhance their knowledge and skills in the medical field, enabling them to excel in their careers.
Kabardino Balkarian State University Ranking
Here is the ranking of kabardino balkarian state university
| Ranking | Kabardino State University |
| --- | --- |
| World Ranking | 3352 |
| Ranking in Russia | 82 |
| | |
Kabardino Balkarian State University Fees Structure 2023
Mentioned below is the fee structure of Kabardino Balkarian State University
| Details | Tuition fee | One time charges | Hostel charges | Total |
| --- | --- | --- | --- | --- |
| 1st year | 2,07,000 RUB | 2,00,000 RUB | 15,000 RUB | 4,22,000 RUB |
| 2nd year | 2,07,000 RUB | – | Optional | 2,07,000 RUB |
| 3rd year | 2,07,000 RUB | – | Optional | 2,07,000 RUB |
| 4th year | 2,07,000 RUB | – | Optional | 2,07,000 RUB |
| 5th year | 2,07,000 RUB | – | Optional | 2,07,000 RUB |
| 6th year | 2,07,000 RUB | – | Optional | 2,07,000 RUB |
| Grand total | – | – | | 14,57,000 RUB |
| | | | | |
Note: 1 ruble = 1.08 INR
Eligibility Criteria 2023 to take Admission in Kabardino Balkarian State University
The eligibility criteria to study MBBS at Kabardino Balkarian State Medical University is as follows:
NEET Exam is mandatory for admission to medical courses.
Candidates must have a minimum of 50% marks in the 12th class with Physics, Biology, and Chemistry as subjects.
Reserved category candidates require a minimum of 40% marks.
The minimum age for eligibility is 17 years.
Students who turn 17 on or before
December 31 of the admission year are also eligible to apply.
Kabardino Balkarian State University Admission Process 2023
Any student who wants to apply to Kabardino Balkarian State Medical University to study MBBS in Russia has to follow the following admission procedure:
Step 1: Complete the Online Application Form
Step 2: Gather and Upload Academic Documents
Step 3: Await Offer Letter
Step 4: Pay First Year Tuition Fees
Step 5: Apply for Visa
Step 6: Pay Visa Fee and Await Processing
Step 7: Travel to Russia and Begin Studies
Required Documents for MBBS in Kabardino Balkarian State University
Indian medical aspirants are required to submit the following documents during MBBS admission to Kabardino Balkarian State Medical University.
10th class Marksheet.
12th class Marksheet.
NEET Scorecard
Original Passport.
Passport size Photographs
HIV Report
COVID-19 Report
Student life at Kabardino Balkarian State University
Students' life at the university is characterized by joy, meaning, and a focus on learning.
The university offers a diverse and interesting setting for students to spend their leisure time meaningfully.
The extracurricular activities provided by the university enhance students' educational prospects.
Indian students are provided with comfortable dining and accommodation facilities, including Indian mess facilities.
Hostel rooms are fully furnished and equipped with all necessary amenities.
The university organizes various cultural and sports activities to engage and entertain the student.
MBBS Syllabus at Kabardino Balkarian State University
The medium of instruction is English, which eliminates any language barriers for international students. The university is situated in Russia, a country rich in culture and offers plenty of opportunities for leisure activities. There is the list of subjects you are going to study while pursuing MBBS from Russia.
| Semester | Subjects |
| --- | --- |
| 1st | Anatomy |
| 2nd | Anatomy & Histology |
| 3rd | Histology, Biochemistry, Anatomy, Physiology |
| 4th | Cell biology, Microbiology, General Pathology |
| 5th | Pathology, Pharmacology, Microbiology, Pathophysiology |
| 6th | Pathology, Pathophysiology, Pharmacology, Genetics, Principles of Clinical Medicine |
| 7th-12th | General Surgery, Primary Care Medicine, Oncology, Psychiatry, Pediatrics, Cardiology, ENT, Neurology, Obstetrics and Gynecology, Internal Medicine, Neurology and Psychiatry, Psychology |
| | |
Hostel And Accomodation At Kabardino Balkarian State University
The Kabardino Balkarian State Medical University allows two to three students to share a room. For their comfort, the hostel system offers separate floors for males and girls. The mess is located on the university campus, where international students can get better-quality Indian, vegetarian, and non-vegetarian food. The entire hostel network is guarded and constantly monitored. The students can prepare their own food in the communal kitchen in the dorm according to their preferences.Students can also use the training rooms in the hostel for study purposes. For the use of the students, the hostel also has a gym and laundry rooms. Internet connectivity is offered continuously in the dorm rooms.
Duration Of MBBS In Kabardino Balkarian State University
The general medical programme at Kabardino Balkarian State University lasts six years, including five years of both academic and practical training. However, first-year MBBS students will study the fundamentals of medicine. Clinical trials offered by linked hospitals and clinics give second-year students the chance to gain practical experience that will benefit medical students more. In Russia, MBBS students are required to undergo a one-year internship Programme.
Affiliation And Recognition Of Kabardino Balkarian State University
The Ministry of Science and Higher Education of the Russian Federation oversees the policies and regulations related to science and higher education within the country.The National Medical Council (NMC) in Russia is responsible for the regulation and oversight of the medical profession. The World Health Organization (WHO) is an international organization that focuses on global health issues. .The United Nations Educational, Scientific and Cultural Organization (UNESCO) is a specialized agency of the United Nations. The Educational Commission for Foreign Medical Graduates (ECFMG) is an organization that assesses the qualifications of international medical graduates (IMGs) who seek to practice medicine in the United States.
Faculties Of Kabardino Balkarian State University
Kabardino Balkarian State Medical University Russia Courses offer quality medical programs under highly qualified faculty and infrastructure. This College is famous for its undergraduate medical programs if you want more details about the MBBS course.
Faculty of Normal and pathological anatomy
Faculty of Normal and pathological physiology
Faculty of Clinical
Faculty of infectious diseases
Faculty of Dermatology
Faculty of Psychiatry
Faculty of Neurology and Addictions
Faculty of General Practice
Faculty of Dentistry
Conclusion
At AR Group of Education, our team of experienced and knowledgeable counselors has a deep understanding of the international education sector for the students who want to pursue MBBS in abroad, providing understandable support to help you choose the right college and obtain your visa and tickets. We even offer assistance until you reach your desired college. Our expert counselors are available every time to answer your queries and provide guidance whenever you need it. You can trust us to be your ultimate guide in achieving your dream of studying MBBS in Russia.
FAQ