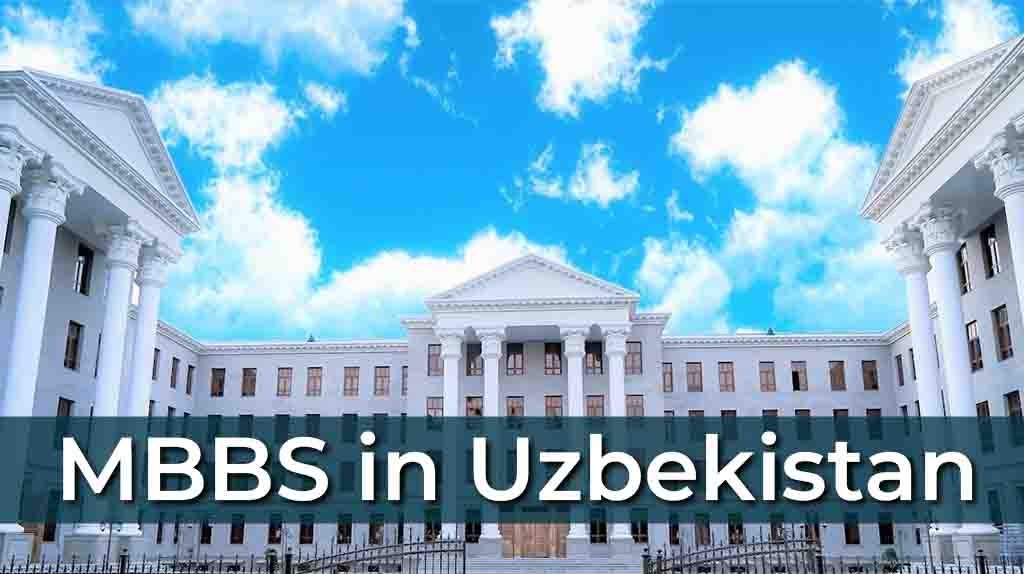 Uzbekistan has emerged as popular destinations for the students who want to pursue study MBBS abroad . The quality of education provided by the Uzbekistan government is commendable. Thousands of Indian students prefer to study MBBS in Uzbekistan due to its quality education.
MBBS in Uzbekistan Key Features
| | |
| --- | --- |
| Medium language | English |
| Recognized by | WHO, NMC, MCI |
| Yearly tuition fees | USD 3,500 |
| Exam | NEET examination |
| Capital | Tashkent |
| Currency | Uzbek |
| Language | Uzbekistani som |
| Course duration | 6 years |
Why study MBBS in Uzbekistan?
Universities in Uzbekistan provide a 6-year medical course with internship included in it.
MBBS in Uzbekistan for Indian students is much more affordable as compared to MBBS in India.
All the top medical universities are recognized by many international medical organizations.
The MBBS program offered by Uzbekistan is approved by the WHO and NMC.
Universities in Uzbekistan provide better accommodation with all the latest facilities .
The course duration is 6 years with an internship, which means you have a good chance to explore this field.
The climate of Uzbekistan is most suitable for Indian students as it has a temperamental climate with favorable winters and cool summers.
MBBS in India vs MBBS in Uzbekistan
| MBBS in India | MBBS in Uzbekistan |
| --- | --- |
| In India, admission to medical college is highly competitive | Universities in Uzbekistan as low competition in comparison to India |
| the medium of teaching is English | In Uzbekistan, the primary medium of teaching may be Russian or Uzbek but mostly English is considered as a medium of teaching |
| The cost of studying MBBS in India is expensive. | The cost of studying MBBS in Uzbekistan is affordable. |
MBBS in Uzbekistan Fee Structure 2023-2024

Name of College
Tuition Fees
( In USD )
Hostel Fee / Year
( In USD )
Total fees
(In USD )
(1st Year)
(2nd -5th Year)
Tashkent Medical Academy
5500
4000
500
$23500
Urgench branch of Tashkent Medical Academy
3600
3600
500
$18500
Bukhara State Medical Institute
5000
3800
400
$21800
Samarkand State Medical Institute
5000
3400
600
$21000
Andijan State Medical Institute
4600
3000
300
$17800
Top Medical Universities in Uzbekistan for MBBS
Here are the top MCI (Medical Council of India) approved medical colleges in Uzbekistan:
One of the best universities and ranked top 2 in the country as it provides quality education in the field of medical courses.
| | |
| --- | --- |
| Established | 1955 |
| Location | Andijan city |
| Tuition fee | Rs 16 lakh |
| Country ranking | 2nd |
| Medium | English |
It was established in 1990 and is one of the best medical universities which provides quality education.
| | |
| --- | --- |
| Established | 1990 |
| Location | Bukhara city |
| Tuition fee | Rs 22 lakh |
| Country ranking | 8th |
| Medium | English |
It is one of the leading universities and is recognized by the top international medical organizations.
| | |
| --- | --- |
| Established | 2005 |
| Location | Tashkent city |
| Tuition fee | Rs 28 lakh |
| Country ranking | 5th |
| Medium | English |
This university is one of the oldest in Uzbekistan and has top-notch medical facilities.
| | |
| --- | --- |
| Established | 1930 |
| Location | Samarkand city |
| Tuition fee | Rs 22 lakh |
| Country ranking | 15th |
| Medium | English |
Eligibility for MBBS in Uzbekistan
Uzbekistan is gaining popularity as a destination for affordable yet high-quality education, particularly among Indian students pursuing MBBS. To ensure a successful application, it is crucial for students to meet all of the following eligibility requirements:
NEET
To be eligible for pursuing MBBS in Uzbekistan, it is mandatory for Indian students to have qualified for the NEET exam
Academics
50% in 12th class with physics, chemistry, biology

40% for reserved category

Age
The minimum age requirement is 17 years old. Students who will turn 17 by December 31st of the admission year are also eligible to apply.
Admission Procedure for Uzbekistan
If you are an Indian student interested in pursuing an MBBS degree in uzbekistan , here are the steps you need to follow:
Step 1: Contact AR Group of education for personalized counseling to choose the best university for your MBBS studies in uzbekistan .
Step 2: Fill out the admission form for the chosen university and submit the required documents.
Step 3: Once accepted, receive an admission/invitation letter from the university.
Step 4: Apply for a student visa by submitting your passport and other supporting documents.
Step 5: Pay your tuition fees for the first year. If you need assistance with an education loan, AR Group of Education can guide you through the process.
Step 6: Pack your bags with all the essential items you will need during your stay in uzbekistan.
Step 7: Board your flight to Uzbekistan and begin your journey towards pursuing MBBS in Uzbekistan.
Required Documents for Admission
10th mark sheet
12th mark sheet
NEET scorecard
Original passport
Passport size photographs
HIV report
COVID-19 report
Conclusion
AR group of Education is making special arrangements for its Indian students to ensure their comfortable stay in Uzbekistan. Hostel accommodations, Indian mess, Indian counsellors and representatives in universities for real-time assistance, and invitations to renowned Indian doctors and professors to Uzbekistan are all valuable resources for Indian students studying abroad. These efforts can help students adjust to the new culture, feel more comfortable and supported, and succeed academically.
Students need to have access to support systems while study MBBS abroad, especially in a foreign country where they may face language barriers, cultural differences, and homesickness. Providing Indian students with familiar amenities like Indian mess and counsellors can help ease their transition and provide them with a sense of familiarity and comfort.
FAQ ( Frequently Asked Question )