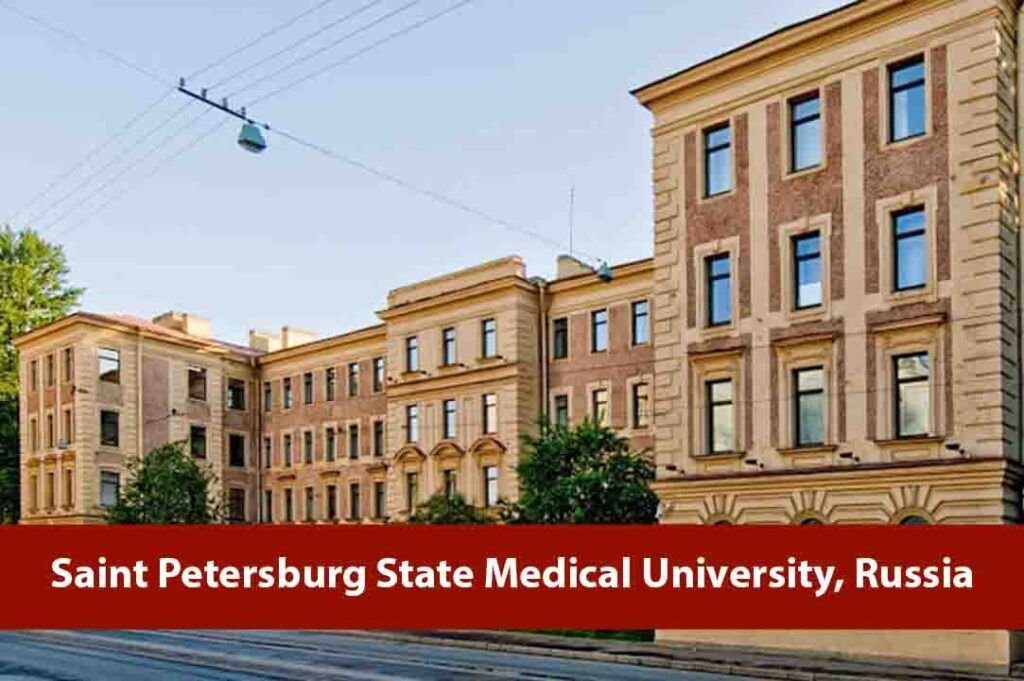 Russia has become a favoured choice for Indian students seeking to pursue MBBS in Russia overseas due to its winning combination of top-notch education and affordable costs. With a remarkable global reputation, Russian medical universities dominate the charts with approximately 30 institutions featured in world rankings. As a result, Russia proudly holds the 8th position as a leading destination worldwide for aspiring medical students looking to study abroad.
About Russia
| Population | 147,182,123 |
| --- | --- |
| Area | 17,098,246 km2 |
| Capital City | Moscow |
| Language | Russian (official), Tatar, Ukrainian, Bashkir, etc. |
| Climate | Warm to hot in dry summers and (very) cold winters with temperatures of -30°C and lower |
| Literacy Rate | 100% |
| Time Zone | UTC+2 to +12 |
| Currency | Russian ruble (₽) (RUB) |
| Weather | June to august ( summer ) , september to october (autumn) , november to march ( winter ) , april to may ( spring ) |
| | |
Pavlov First Saint Petersburg State Medical University was founded in September 1897, originally established as the Medical Institute for Women. It holds the distinction of being the first institution to offer women the opportunity to pursue higher medical education. In 1994, the Government of the Russian Federation bestowed the name St. Petersburg State I.P. Pavlov Medical University upon the institution.
The university prides itself on employing a unique teaching methodology that combines the finest traditions of Russian medical education with elements from the Western education system. Notably, it stands as the sole higher medical school to have a polyclinic situated on its premises. This facility enhances the university's ability to provide comprehensive medical care and educational experiences for its students.
Overview :
| Year of Establishment | 1897 |
| --- | --- |
| Type of University | Government |
| Duration of MBBS | 6 years (Including one year of internship) |
| Recognitions | NMC (erstwhile MCI), FAIMER, WDOMS, & ECFMG |
| Intake period | September |
| Medium of teaching | English |
| NEET Requirement | Yes |
| | |
MBBS Fees in Saint Petersburg Medical University, Russia
Mentioned below the MBBS fees of saint Petersburg medical university:
| University | Tuition Fee/Year | Hostel Fee/Year |
| --- | --- | --- |
| Saint Petersburg Medical University | 5500 USD | 1500 USD |
| | | |
Nite 1 ruble = 1.08 INR
Admission Procedure for Saint Petersburg Medical University
Step 1: Apply Online
Fill out the application form and submit it online.
Send the required documents via email, including transcripts of grades 10, 11, and 12, a school leaving certificate, and a copy of a valid passport.
Step 2: Get the Invitation Letter
Await notification of acceptance or rejection of the application.
If accepted, receive the admission confirmation within 1-2 working days.
Step 3: Pay Enrolment Expenses
Upon receiving the confirmation letter, pay the fees using net banking or other available payment methods.
Step 4: Apply for the Visa
Obtain the invitation letter issued by the university.
Prepare the necessary documents for the visa application, such as an international passport with a minimum validity of 2 years, duly attested high school certificates and medical certificates.
Step 5: Arrival in Russia
Pay the fees for the first year before arriving in Russia.
Inform the university about the flight details for assistance upon arrival.
Failure to notify the university about arrival may result in deportation by immigration authorities.
Step 6: Commencement of Classes
Bring original documents and payment receipts for the first year.
Register at the college within 3 days of arrival.
Once the registration process is complete, attend classes and begin studies.
Documents Required for Saint Petersburg Medical University
Duly filled-in admission form
Scanned copy of mark sheets and pass
Certificates of class 12th and 10th
Scanned copy of the NEET scorecard
Bank statements (for 6 months)
Passport (scanned copy of first and last page)
HIV test report
Medical certificate
6 Coloured photographs on white background
Eligibility Criteria for Admission in Pavlov First Saint Petersburg State Medical University
Clear Class 12th with a minimum score of 50% in Physics, Chemistry, and Biology.
Must be 17 years of age or older on or before 31st December in the admission year.
Pass the NEET exam.
For the general/EWS category, achieve a minimum percentile of 50.
For the unreserved category, achieve a minimum percentile of 40.
Student Life at Pavlov First Saint Petersburg State Medical University
Well-structured and spacious campus.
Hostels with basic amenities.
Advanced and well-equipped laboratories.
Enhances practical learning opportunities for students.
Well-stocked library for academic and recreational activities
Sharing basis accommodation in hostel rooms.
Round-the-clock internet connectivity across the university campus.
Encouragement for students to participate in recreational activities organized by student clubs.
Various sports competitions and counselling sessions are organized within the university for students.
Well-structured facilities for sports and recreation, including gyms, a swimming pool, and a sports and recreation center.
Organized summer camps at the university during holiday.
Faculties of Pavlov First Saint Petersburg State Medical University
Faculty of Dentistry
Faculty of Nursing
Faculty of Preparatory
Faculty of Pediatric
Faculty of Medicine for Foreign Students
Faculty of Postgraduate Studies
Faculty of Sports Medicine
Faculty of Clinical Psychology
Conclusion
At AR group of Education, our team of experienced and knowledgeable counsellors has a deep understanding of the international education sector for the students who want to pursue MBBS in abroad, providing understandable support to help you choose the right college and obtain your visa and tickets. We even offer assistance until you reach your desired college. Our expert counsellors are available every time to answer your queries and provide guidance whenever you need it. You can trust us to be your ultimate guide in achieving your dream of studying MBBS in Russia.
FAQ