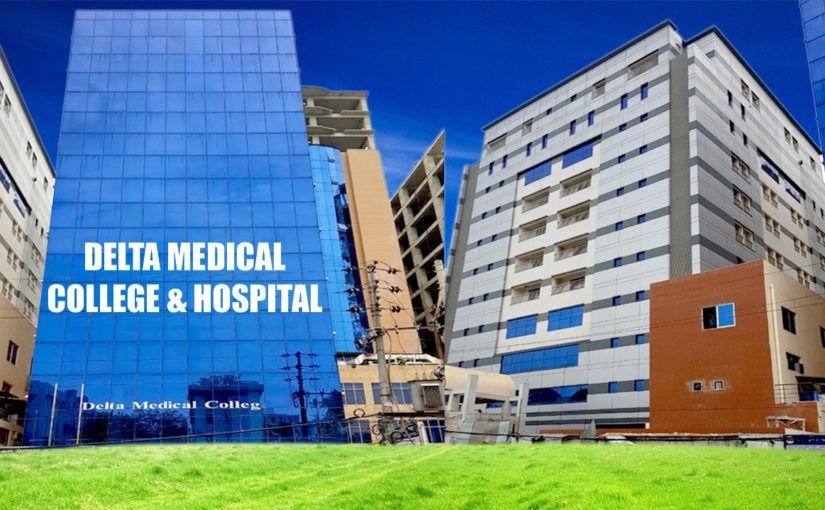 Delta Medical College Mirpur is a private medical college established in 2006 in Dhaka, Bangladesh. Founded by Professor Dr. Syed Mukkaram Ali, an esteemed histopathologist, the college aims to produce skilled doctors with strong ethical values. Dhaka, where the college is located, is a vibrant city known for its educational and cultural significance.
The college offers a five-year MBBS degree, attracting numerous aspirants annually. It is renowned for its academic excellence, research initiatives, and professional training. The curriculum aligns with the standards set by the Bangladesh Medical and Dental Council (BM & DC). Delta Medical College boasts modern teaching techniques and tools, fostering a conducive learning environment.
Delta Medical College also welcomes international students from countries like India, Nepal, Myanmar, the USA, and Nigeria. The college's governing body includes representatives from the Ministry of Health and Family Welfare, Dhaka University, and the Trustee Board. Additionally, Indian students can apply for an NOC/Eligibility Certificate from MCI, as Dhaka University is approved by the Bangladesh Medical & Dental Council.
About Delta Medical College & Hospital
| | |
| --- | --- |
| College Name | Delta Medical College |
| Year of Establishment | 2006 |
| University Type | Private |
| Affiliated | Dhaka University |
| Recognition | WHO, BMDC, and NMC |
| Eligibility | 50% in Physics, Chemistry, and Biology |
| Course Duration | 5 Years |
| NEET Requirement | Yes, with qualifying marks |
| IELTS/TOFEL Requirement | Not Required |
| Medium of Teaching | English |
| | |
Why Study MBBS in Bangladesh?
Affordable tuition fees compared to other countries
Recognized by the Medical Council of India (MCI) and the World Health Organization (WHO)
High-quality medical education with modern facilities and technology
English medium instruction for international students
Experienced and highly qualified faculty members
Clinical exposure and hands-on experience in reputed hospitals
Opportunity to interact with diverse cultures and gain a global perspective
A safe and welcoming environment for international students
Emphasis on practical training and research opportunities
Delta Medical College & Hospital Ranking
Delta Medical College & Hospital is ranked 33rd nationally in Bangladesh, reflecting its prominence in the country's medical education landscape. On the global scale, it holds the 1718th position, indicating its international recognition and contribution to the field of healthcare and education.
Delta Medical College & Hospital MBBS Fees Structure
| Course | Total fee with hostel in USD | Total fee with hostel in INR |
| --- | --- | --- |
| MBBS | $ 39,000 | Rs 27,30,000 |
Courses Offered
The MBBS program, spanning a total duration of six years, encompasses five years of rigorous academic training coupled with an additional year dedicated to a comprehensive internship. During the five years of academic study, students delve deep into medical sciences, gaining essential knowledge and practical skills. The final year is devoted to a hands-on internship, where students apply their acquired expertise in real-world medical settings, honing their clinical skills and preparing them for the challenges of the medical profession. This holistic six-year course equips aspiring doctors with the expertise and experience necessary to embark on a successful career in the field of medicine.
Admission Procedure For Delta Medical College & Hospital
Step 1: Consult with the AR group of education to receive personalized counselling and select the best university for your MBBS in Bangladesh.
Step 2: Complete the admission form of your chosen university and submit the required documents.
Step 3: Obtain the admission or invitation letter from the university.
Step 4: Apply for a student visa by submitting your passport and other necessary supporting documents.
Step 5 : Pay the tuition fees for your first year of study. If you need an education loan, Rus Education can guide you through the process.
Step 6: Pack all the essential items you will need in Bangladesh.
Step 7: Board your flight to Bangladesh and start your journey of pursuing MBBS in Bangladesh.
Eligibility Criteria For Delta Medical College & Hospital
Indian students who wish to pursue MBBS in Bangladesh must meet the eligibility criteria set by the respective colleges or universities. These criteria typically include:
NEET
To be eligible for pursuing MBBS in Bangladesh, it is mandatory for Indian students to have qualified the NEET exam
Academics
50% in 12th class with physics, chemistry and biology
40% is for reserved category
Age
The minimum age requirement is 17 years old. Students who will turn 17 by December 31st of the admission year are also eligible to apply.
Meeting these eligibility criteria is essential for Indian students who wish to pursue MBBS in Bangladesh. It is important to note that each college or university may have specific requirements in addition to the above-mentioned criteria. It is recommended that students check with the respective college or university to confirm the eligibility requirements before applying for the admission.
Documents Required For Delta Medical College & Hospital
10th mark sheet
12th mark sheet
NEET scorecard
Original passport
Passport size photographs
HIV report
COVID-19 report
Advantages of Studying at Delta Medical College & Hospital
Delta Medical College offers a five-year MBBS program.
The educational courses and syllabus align closely with those followed in India.
Delta Medical College students boast a high passing percentage on the MCI screening test.
Studying at Delta Medical College is more economical compared to most Indian colleges.
The climate at Delta Medical College is almost identical to that of India.
The cost of residing at Delta Medical College is lower in comparison to living expenses in India.
Student Life at Delta Medical College & Hospital
The college provides a vibrant and cozy atmosphere for students.
Numerous cultural, sports activities, and events are organized to maintain students' mental and physical well-being.
All major Indian national festivals are celebrated on campus, ensuring students stay connected to their cultural heritage even while studying abroad.
The college offers secure and comfortable accommodation options for international students.
Accommodation is provided on a twin sharing basis, promoting a sense of camaraderie among students.
Hostel rooms are fully furnished and equipped with a central cooling and heating system for a comfortable living experience.
Laundry facilities are also available for the convenience of the students
Conclusion
The AR Group of Education offers various services to assist students in pursuing their dream of studying abroad. With 10 years of experience in counseling, they provide unlimited support to students throughout their journey. The team of professionals guides students through the entire process and ensures smooth admission.
The agency has an updated list of colleges that are suitable for Indian students to study abroad. They not only suggest the best colleges but also provide "done for you" services, including scholarship guidance and assistance in availing them, seat locking to ensure admission to preferred colleges, and travel/visa assistance.
FAQs: