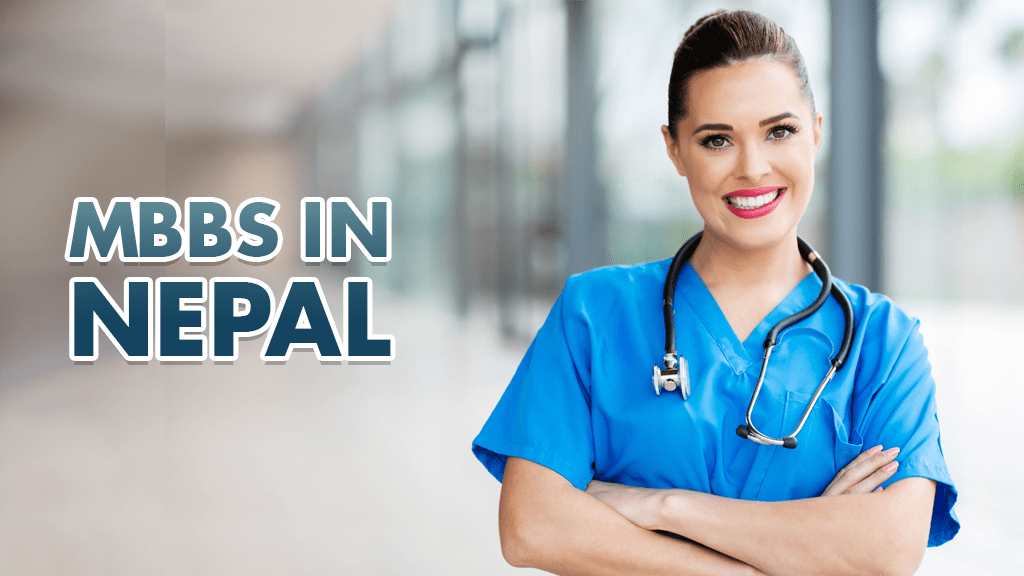 A skillfully crafted career is crucial to living an extraordinary life. This happens only if you do what you love & love what you do and have the best guidance. These are the basics of excelling in any field.  There are many lucrative career options available in India to select from MBBS ranks the top among them. To secure admission to MBBS in India one has to go through a lot of complicated admission procedures. 
Obtaining coaching for NEET, burning the midnight oil and preparing for the exam, clearing & getting through the cut-throat competition, securing the highest marks and after all these, maximum students face rejections just because they have scored only one mark less than the cut-off. How frustrating it would be! But this failure shouldn't shatter your dream of becoming a doctor as, where there is a will there is a way! The way we are referring here is MBBS in Nepal. It is one of the best options in terms of cost, quality of education, and credibility of the degree.
1) Studying MBBS in Nepal is quite popular among Indian students for its low-cost high-quality medical education since 1996. More than 7000 doctors have returned to India after completing their MBBS from Nepal over the last 25 years. At present, more than 10,000 Indian students are pursuing their MBBS in Nepal.
2) As compared to the other East European countries like Ukraine, Georgia, Armenia, Belarus, etc. the cost of studying MBBS in Nepal is quite low and affordable for Indian students. The climate of Nepal falls below 0 degrees in winters however, premium infrastructure facilities have been provided. All the colleges, accommodation facilities, cars, cabs are fully equipped with heaters which keep you warm.
3)There are around 87 medical universities out of which the top 50 medical colleges are recognized by the Medical Council of India.
4)There are more than 15 universities in Nepal offering MBBS in English medium.
5) Some of the top medical universities in Nepal are approved by many other international organizations like the Medical Council of Canada,  etc.
6) The best thing about pursuing MBBS in Nepal is the low student-teacher ratio. This ensures personal attention towards the student with a high-quality education.
7) Nepal universities and science labs are equipped with modern instruments, equipment, and devices. This advanced infrastructure help students to be technologically rejuvenated. The students of Nepal universities don't lag in any way
1) The duration of MBBS in Nepal is 5.8 years, out of which, the student is required to complete the 1 year of internship in India after completion of the course and clearing the FMGE/ NEXT Exam. Also, the admission process is quite easy. Therefore, Indian students prefer studying MBBS in Nepal over other countries.
2)  The Nepal Medical universities are certified by the Medical Council of Canada (MCC); recognized by the Ministry of Science and Higher Education of Nepal; certified by the Educational Commission for Foreign Medical Graduates (ECFMG); registered with the Foundation for Advancement of International Medical Education and Research (FAIMER), and are also listed with the World Directory of Medical Schools (WDOMS). These recognitions provide ample job opportunities anywhere throughout the world.
3) Indian students have to choose only from the colleges which are approved by MCI but this rule has changed since 2020; now Indian students can opt for any medical college anywhere in the world. But the students are suggested to check whether the universities & colleges are recognized by ECFMG which ensures them sufficient employment opportunities outside Nepal as well.
 4) The main hurdle while studying MBBS in Nepal is the language barrier that students face there. Most of the colleges have bilingual programs and use the Nepal language as their mode of communication. This creates barriers to thoroughly articulating the lessons. Therefore, students are advised by the MCI beforehand, to check the mode of education of the college before applying for it.
MCI/NMC-approved medical colleges in Nepal
There are many famous medical institutes in Nepal that offer a degree that is valid in India and other neighboring countries.
BP Koirala Medical College Nepal
Birat Medical College Biratnagar
Institute of Medicine, Nepal
Janaki Medical College, Nepal
Kathmandu Medical College
KIST Medical College Nepal
Lumbini Medical College (LMC)
Universal Medical College Nepal
Best Medical Colleges in Nepal for Indian students
BP Koirala Medical College Nepal
Autonomous health Science educational institute
All resources and infrastructure for students to learn
Hospital for Practical training
| | |
| --- | --- |
| Founded | 1993 |
| Location | Dharan |
| Fact | 700-bed hospital under the college |
Affiliated by Kathmandu university
Experienced teachers and polite staffs
Excellent education atmosphere for foreign students
| | |
| --- | --- |
| Founded | 2014 |
| Location | Biratnagar |
| Fact | One of the best medical colleges of the national |
Institute of Medicine, Nepal
Less crowded classroom
300 beds hospital
Approved by reputed medical bodies
| | |
| --- | --- |
| Founded | 1972 |
| Location | Kathmandu |
| Fact | 12 campuses across the country |
Private ownership
Approved from Nepal Medical Council
Affiliated by Tribhuvan University
| | |
| --- | --- |
| Founded | 2003 |
| Location | Janakpur |
| Popular Courses | MBBS, Nursing and MD/MS |
Kathmandu Medical College
Two campuses of Kathmandu Medical College
MBBS and MD/MS is the popular courses
10 students every year get Scholarship
| | |
| --- | --- |
| Founded | 1997 |
| Location | Kathmandu |
| Fact | Approved from medical councils of Nepal, Srilanka, and India |
Eligibility criteria for pursuing MBBS in Nepal
1) The applicant must have completed 17 years of age on or before 31st December of the year in which he wishes to apply for MBBS in Nepal.
2) The student should have cleared class 12th from a regular board with 50% in the PCB group for the general category. The minimum percentage required for backward and reserved categories is 40%.
3) Along with class 12th, the student must be qualified in NEET as well. The student is required to score a minimum of 50 percentile in NEET for general and 40 percentile for reserved categories.
 4) Clearing any other language proficiency exam like TOEFL/IELTS is not mandatory for procuring admission for MBBS in Nepal.
Cost of studying MBBS in Nepal
Studying MBBS in Nepal is always a better option than paying huge donations and fees to the private medical colleges in India. The cost of MBBS in Nepal may vary as per the ranking, quality of education, infrastructure, and location of the university.
Documents required while applying for MBBS in Nepal
10th & 12th mark sheets
NEET scorecard
Valid passport
Legal guardian's identity proof
2 identical photographs (50mm×50mm)
Documents required for applying for a Nepal Student Visa
Invitation letter issued by the Ministry of Education of Nepal
10th & 12th mark sheets
Birth certificate (in English)
Medical & HIV certificates
Student's bank statement with a minimum balance of 4 lakhs
Parents' bank statement (min 6 months)
School leaving / college leaving/ transfer certificate
2 Identical photographs (50mm×50mm)
Affidavit certificate
Gap certificate (for those who have passed 12th before 2020)
Important note to be kept in mind while taking admission in MBBS in Nepal
Many agents in the market mislead the students and put them into the wrong bilingual colleges.  Later the language of communication and education of these colleges turns out to be Nepal. Hence,  the students get trap in disastrous,  incomprehensible, and uncomfortable language. To avoid this, the students must select the agents & agencies wisely.
Services Provided by AR Group of Education
1) Counselling – We have 10 years of experience in counseling. Hence, we provide you with all kinds of unlimited counseling support throughout your journey with us. We have a team of professionals to guide you through the entire process and ensure smooth admission.
2) College selection – We have an updated list of colleges that are perfect for Indian students to study abroad. From suggesting the best college,  we provide you with the "done for you type of services" which include-
a) Scholarship guidance – We have a completely up-to-date team to guide you to opt for the ongoing scholarship programs. We even help you in the process of availing them.
b) Seat locking – We have tie-ups with the top Medical colleges of Nepal and other countries through which we ensure that you don't miss a chance to secure admission to your dream college.
c)  Travel/ Visa assistance – We ensure smooth travels for our students. Therefore, we at AR Group of Education assist the students throughout the entire complex travel and visa obtaining procedures.