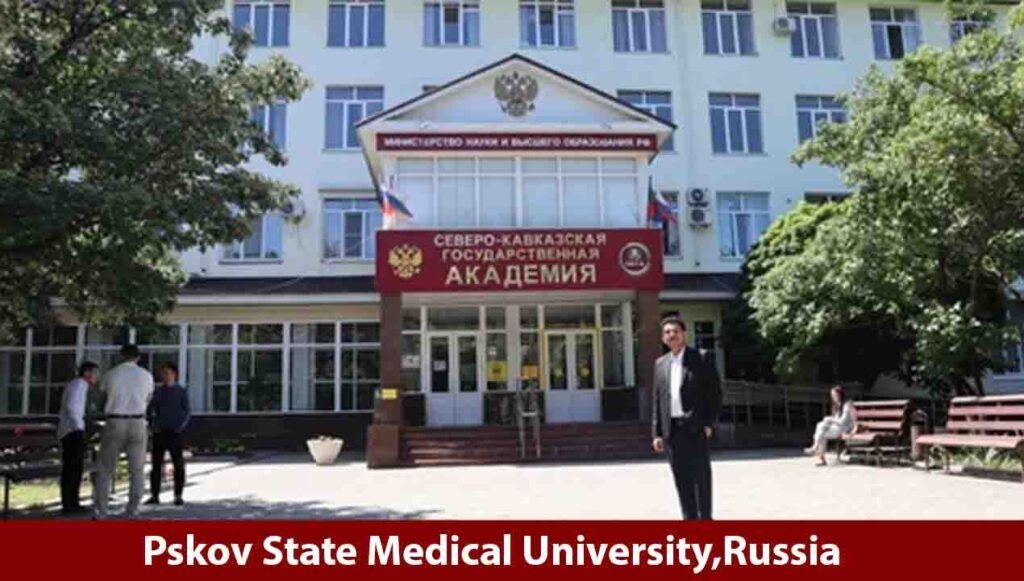 Russia has become an increasingly popular choice for Indian students seeking to pursue MBBS studies overseas due to its reputation for providing quality education at a reasonable cost. With around more than 30 Russian medical universities ranked among the world's best, study MBBS in Russia is considered a top option for aspiring medical students. As a result, Russia is now ranked as the 8th most preferred destination globally for medical students looking to study abroad.
About Russia
| Field | Information |
| --- | --- |
| Language | Russian (official), Tatar, Ukrainian, Bashkir, etc. |
| Climate | Warm to hot in dry summers and (very) cold winters with temperatures of -30°C and lower |
| Literacy Rate | 100% |
| Time Zone | UTC+2 to +12 |
| Currency | Russian ruble (₽) (RUB) |
| Capital City | Moscow |
| Population | 147,182,123 |
| Area | 17,098,246 km2 |
Pskov State Medical University
Established in 1932, Pskov State Medical University is a highly esteemed institution of higher education located in the Northwestern region of Russia. With a focus on research in various fields, the university provides a conducive environment for students to develop their skills and become accomplished medical professionals through the utilization of scientific methodologies.
University Overview
| Field | Information |
| --- | --- |
| IELTS/TOFEL | Not Required |
| Recognition | NMC and WHO approved |
| Annual Tuition Fees | $3800 |
| Course Duration | 6 Years |
| NEET | Qualifying Marks |
| Eligibility | 50% in Physics, Chemistry and Biology Aggregate |
| University Location | Paskov, Russia |
| Year of Establishment | 1932 |
| University Type | Government |
Pskov State Medical University Fee Structure
| Fees | 1st Year | 2nd-6th Year |
| --- | --- | --- |
| Tuition Fee, Medical Insurance (Rub) | 298000 Rub | 298000 Rub |
| Hostel Fee* (can be changed according to hostel) | 7000 Rub | 7000 Rub |
| Food for 10 months/1st year (USD) | 1200 USD | N/A |
| Others | 1500 USD | N/A |
Note : 1 Ruble =1.06 INR
1 USD = 82.26 INR
Why Study MBBS at Pskov State Medical University?
The university boasts experienced and knowledgeable faculty members who provide students with a well-guided and informed educational journey.
The campus at Pskov State Medical University is multi-functional and features various entertainment venues such as clubs, theaters, and gyms. This creates an environment that promotes social interaction and helps students relax outside of their studies.
It encourages students to explore their creativity through research projects, which provides them with a competitive edge in their careers. The university is recognized by the Medical Council of India and the World Health Organization, which attests to the quality of education .
International students have the opportunity to experience a new culture and diverse learning experiences, which is a significant advantage in today's globalized world.
The fees at Pskov State Medical University are affordable, which makes it accessible to students from all backgrounds.
Pskov State Medical University provides students with a quality education and a unique cultural experience that prepares them for success in their careers.
Facilities
Pskov State Medical University is accredited by WHO and recognized globally for its quality education.
The medium of instruction is English, which eliminates any language barriers for international students.
The university is situated in Russia, a country rich in culture and offers plenty of opportunities for leisure activities.
The university limits its batch size, ensuring individual attention and personalized learning experiences for students.
European standards of learning are followed, providing an overall experiential-based education.
The campus hosts students from different countries, promoting cultural diversity and international exposure.
The admission process is easy and hassle-free for applicants.
On-campus accommodation is available, offering convenience and proximity to learning resources.
The university's well-stocked library is accessible 24/7 for students to enhance their learning experience.
Admission Procedure
To gain admission to Pskov State Medical University Russia, applicants must meet the qualification criteria for the National Eligibility Entrance Exam (NEET). Russia is one of the top destinations for international students who wish to pursue their medical degree courses. When considering admission to an MBBS program in Russia, it is important to keep in mind a few essential points.
Eligibility Criteria
Applicants must be 17 years old on or before 31st December of the admission year.
Applicants must have passed Class 12th with PCB (Physics, Chemistry, Biology) and English subjects from a board recognized by the Indian Authorities.
Applicants must have secured a minimum of 50% in PCB in their 10+2 examination.
Applicants must have qualified for the NEET exam.
Documents Required
A passport with a minimum validity of 18 months
10th certificate and mark sheet
12th certificate and mark sheet
Birth certificate
10 passport-size photographs
Official invitation letter from the medical university of Russia
Authorization of all documents from the Ministry of External Affairs in New Delhi
Legalization of all documents from the Russian Embassy
Visa fees
Bank receipt for the 1st-year fees of Pskov State Medical University
HIV test documents
Application Process:
The process for admission to Pskov State Medical University Russia is as follows:
Fill out the application form for the university.
Submit all required documents for admission to the MBBS program in Russia.
Receive an admission or acceptance letter from the university.
Apply for a student visa and submit all necessary documents, including a passport.
If applying for an education loan, clear all dues before departure.
Make travel arrangements to Russia for medical studies.
Board your flight to Russia and begin your academic journey at Pskov State Medical University.
Student Support
Anti-ragging services to ensure a safe and secure learning environment.
Counseling services available for students to address personal or academic issues.
Healthcare services provided to students to ensure their well-being and good health.
Hostel facilities available for students with various amenities and comforts.
A reporting system in place to allow students to report any issues or concerns they may have.
Query resolution services provided to students to address any academic or administrative concerns.
Local language learning classes offered to students to help them integrate into the local culture.
NMC screening test help center available to assist students in preparing for the screening test conducted by the National Medical Commission.
Faculty and Syllabus Offered
Pskov State University boasts a robust infrastructure comprising 22 educational and laboratory buildings, 11 student dormitories, and several other facilities.
The Student House is one of the key facilities on campus that includes a hostel, a medical rehabilitation center with a university polyclinic, and other amenities.
The Universal Swimming Pool is another notable facility that students can access.
The Center for Student Initiatives provides a platform for students to showcase their talents and engage in extracurricular activities.\
The Student Engineering Center is a unique facility that allows students to engage in research and development projects.
Ranking
The Pskov State Medical University world ranking and country ranking is given below:
| | |
| --- | --- |
| Country ranking | 219 |
| World ranking | 5762 |
| | |
Student life
Pskov State University offers a range of residence halls for medical students with different preferences and requirements.
The residence halls are equipped with convenient amenities such as kitchens and internet access, allowing students to focus on their studies and daily life.
Medical school can be a challenging and stressful period, but with hard work and perseverance, it can lead to a successful career in the medical field.
Pskov State University's medical program is highly respected and offers a high-quality education.
The admission process for foreign students is conducted in accordance with the international treaties of the Russian Federation and the Ministry of Education and Science of the Russian Federation.
Conclusion
AR Group of Education is a reliable guide for students who aspire to pursue MBBS in abroad. With our team of experienced and well-informed counselors, we provide comprehensive assistance to help you choose the right college and obtain your visa and travel arrangements. We continue to provide support until you reach your desired college. Our expert counsellors are available round-the-clock to answer your questions and offer guidance whenever you require it. You can depend on us to be your ultimate mentor in realizing your ambition of studying MBBS in Russia.
FAQ