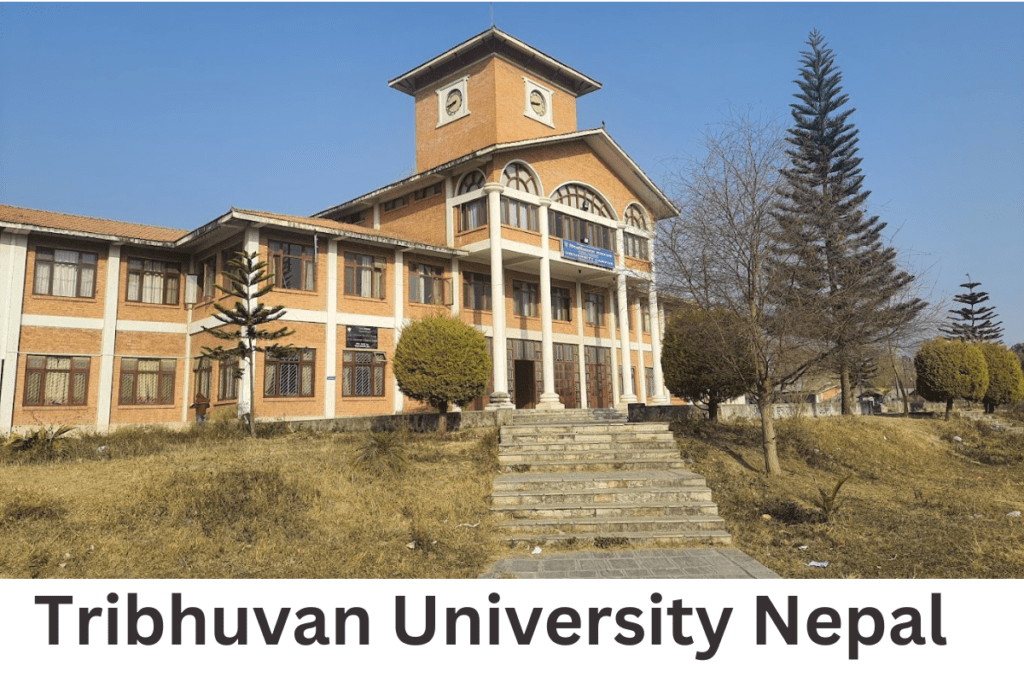 Tribhuvan University, often called TU, is the oldest university in Nepal, and it started back in 1959. It's located in a place called Kirtipur, which is in Kathmandu. This university is not only the oldest in Nepal but also one of the biggest in the whole world. It offers lots of different programs for students who want to learn about many different things, both at the undergraduate (like a bachelor's degree) and postgraduate (like a master's degree) levels.
Tribhuvan University is unique because it's not a money-making organization. It's funded by the government of Nepal, and it's independent, which means it can make its own decisions. In 2013, the government officially said that Tribhuvan University is Nepal's main university. The top person in the government, called the Prime Minister, is like the head of the university, but mostly for special occasions. The Minister of Education is also involved, and they're like the second-in-command. The person who really runs the university day-to-day is the Vice Chancellor.
What's super important about Tribhuvan University is that it helps a lot of students in Nepal get a good education. It plays a big role in making sure that people in Nepal can go to school and learn.
About Tribhuvan University
| Category | Details |
| --- | --- |
| Year of Establishment | 1918 |
| Type | Government |
| Recognition | NMC and WHO approved |
| Eligibility | 50% in Physics, Chemistry, and Biology Aggregate |
| Course Duration | 5 Years |
| NEET | Qualifying Marks |
| IELTS/TOFEL | Not Required |
| Medium of Teaching | English |
List of Some Medical Colleges Affiliated With Tribhuvan University
Institute of Medicine (IOM), Kathmandu
Nepal Army Institute of Health Sciences, Kathmandu
Kathmandu Medical College, Kathmandu
Chitwan Medical College, Bharatpur
Gandaki Medical College, Pokhara
Lumbini Medical College, Palpa
Janaki Medical College, Janakpur
Tribhuvan University Ranking
The Times Higher Education World University Rankings for 2023–2024, published by the Times Higher Education (THE) magazine, place Tribhuvan University between 800 and 1000 colleges worldwide. It is listed among the top 251-300 universities in Asia. The '4icu Organization of University Ranking' places it at 6676 in the world and second in the country.
Study MBBS in Nepal
The MBBS program in Nepal typically follows a structured curriculum, and I've simplified the information you provided for easier understanding:
Academics of Tribhuvan University
Duration: Four and a half years, followed by a 1-year compulsory residential rotating internship.
Language of Instruction: English
Preclinical Curriculum (Semesters 1-4)
First and second years include subjects like Anatomy, Microbiology, Pathology, Pharmacology, and Physiology.
These subjects are integrated and taught alongside Community Medicine and Introduction to Clinical Medicine.
Medical Informatics is integrated to provide computer expertise relevant to medical education.
University examinations are held at the end of the first and second years.
Students must complete all preclinical subjects within specified timeframes.
Clinical Sciences (Semesters 5-9)
Clinical subjects include Forensic Medicine, Community Medicine, Ophthalmology, Medicine & Allied Subjects, Psychiatry, Dermatology, Radiology, Emergency Medicine, Obstetrics & Gynecology, Pediatrics, and other specialties.
Third-year university examinations are held for Forensic Medicine, Community Medicine, and Ophthalmology.
A student cannot progress to the ninth semester without passing these subjects.
Ninth semester includes final university examinations in Medicine, Surgery, Obstetrics, Gynecology, and Pediatrics.
Evaluation
Continuous evaluation is conducted through fortnightly tests, semester exams, end-posting evaluations, seminars, and problem-based learning sessions.
The continuous evaluation system contributes to excellent results in university examinations.
Teaching Methodology
Preclinical teaching includes didactic classroom lectures, practical sessions, problem-based learning (PBL) sessions, and community/hospital visits.
Seminars and PBLs are conducted every fortnight to provide clinical orientation.
Clinical teaching involves practical training in hospitals, community visits, symposia, seminars, clinical meetings, faculty talks, and guest lectures.
An emphasis is placed on clinical practical training.
Internship
A one-year rotating internship is compulsory.
Different internship schemes are approved for students from various countries.
Internships can be completed in Nepal, India, Sri Lanka, Australia, USA, UK, and South Africa.
Internship rules are subject to change based on the regulations of the Medical Council of Nepal.
Admission Procedure For Tribhuvan University
Application forms for admission into medical colleges in Nepal are typically available in September/October.
Applicants can collect these forms from authorized centers in India and abroad.
The filled application form should be accompanied by various documents, including a passport or Aadhar card, a recent passport-size photo, and attested copies of 10th and 12th-grade mark sheets.
An application fee of INR 5000 payable to the Medical Education Commission, Nepal, is required.
If applying for direct admission based on NEET scores, candidates need to include their NEET scorecard.
Notes:

The MEC entrance exam is conducted only in Nepal, so applicants from other countries need to travel there to take the exam.
If there are more applicants through the MEC entrance examination compared to direct NEET admission, priority will be given to candidates who have qualified through the entrance exam.
Eligibility Criteria For Tribhuvan University
Admission to medical colleges MBBS in Nepal for Indian students follows two main pathways: one through an entrance examination conducted by the Medical Education Commission (MEC) and the other through direct admission based on NEET scores for Indian students. Here's a simplified explanation:
Direct Admission Through NEET Scores for Indian Students:
Indian students seeking direct admission to private medical colleges in Nepal can do so based on their NEET scores.
The MBBS course duration is 4.5 years, followed by a 1-year internship.
Eligibility criteria include passing 10+2 with Physics, Chemistry, and Biology with a 50% aggregate or equivalent grades from certificate-level programs.
Candidates should be at least 17 years old by the application deadline.
Admission Through MEC Entrance Examination:
Students interested in studying MBBS in specific Nepalese institutions like BP Koirala Institute of Health Science, Dharan Institute of Medical Science, Patan Academy of Health Science, Kamali Academy of Health Science, Nepalese Army Institute of Health Science, and Kathmandu University School of Medical Science need to take the MEC entrance examination.
To qualify, candidates must score a minimum of 50% in this entrance exam.
Only NEET scores from the current academic year will be considered for admission.
The minimum NEET score required for general category candidates will determine their eligibility.
Documents Required For Tribhuvan University Admission
Passport
10th mark sheet and certificate.
12th mark sheet and certificate.
Birth certificate
10th passport-size photographs
Official invitation letter from the Tribhuvan University.
Verified documents from the Ministry of External Affairs, New Delhi
Verified documents by the Nepal Embassy.
Visa fees
Bank receipt of the paid tuition fee of 1st year.
Advantages of Studying at Tribhuvan University
Tribhuvan University boasts a host of advantages for students pursuing their careers.
Tribhuvan University offers an affordable fee structure, welcomes students from various backgrounds.
Tribhuvan University is committed to providing quality education, holding international recognition and maintaining friendly relations with other nations.
Importantly, it offers direct admission without hidden fees or donation costs. Its medical degree is recognized worldwide, including by bodies like MCI and WHO.
Tribhuvan university is well-equipped with advanced infrastructure and a fully stocked library, eliminating language barriers.
Living in Kirtipur is cost-effective, and students enjoy top-notch accommodations and amenities.
Tribhuvan University takes pride in its exceptional faculty and teaching staff, making it an ideal choice for aspiring scholars.
Faculty & Staff
Tribhuvan University in Nepal offers a wide array of facilities to cater to the diverse needs of its students. These encompass a dedicated medical center to address health concerns, a comprehensive library to support academic research, a spacious auditorium for various events and gatherings, comfortable hostel options for accommodation, advanced computer labs for technology-driven learning, sports facilities to promote physical well-being, a convenient cafeteria for dining, and well-equipped laboratories for practical experiments and research. These facilities collectively contribute to creating a conducive and enriching environment for both academic and personal growth.
Student Support
Tribhuvan University offers a range of support services for its students. These services include anti-ragging measures to ensure a safe environment, counseling services for guidance and support, access to healthcare facilities, assistance with hostel accommodations, a platform for reporting issues and asking questions, and even local language learning classes. Whether you need help with personal or academic matters, we are here to provide the support you need during your time at the college.
Conclusion
AR Group of Education offers a range of services to students seeking higher education abroad. These services include:
Counseling: Our team of professionals with over a decade of experience provides unlimited counseling support to students throughout their journey with us. We guide students through the entire process, ensuring a smooth admission process.
College Selection: We maintain an updated list of colleges that are ideal for Indian students looking to study abroad. From recommending the best college to providing "done for you" services, we offer:
a) Scholarship guidance – Our team keeps up-to-date with ongoing scholarship programs and assists students in availing them.
b) Seat locking – We have tie-ups with top medical colleges in Nepal and other countries, ensuring students don't miss an opportunity to secure admission to their dream college.
c) Travel/Visa Assistance – We understand the complexities of travel and visa procedures and thus offer students our assistance throughout the entire process, ensuring smooth travels.
FAQs: