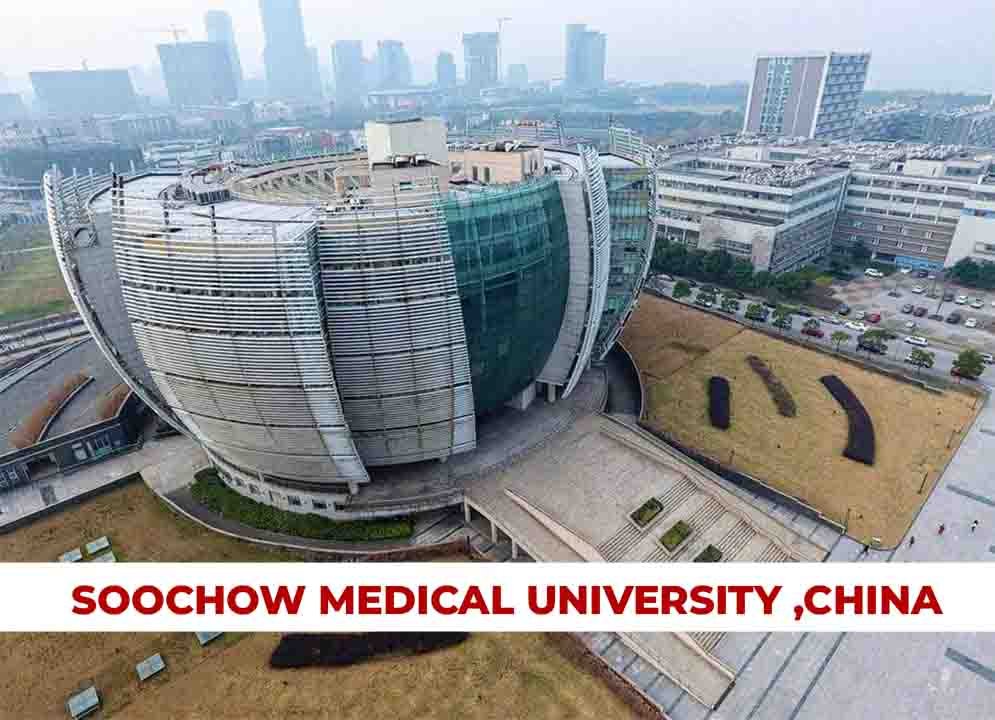 An increasingly popular choice for overseas medical students is to study MBBS in China. China has achieved incredible strides in the realm of medicine, offering its residents a healthy and secure environment thanks to its several highly regarded medical institutes and universities that receive international acclaim. These prestigious colleges provide MBBS programmes at reasonable costs, making them a desirable option for aspirant physicians.
Overview of China
| Category | Details |
| --- | --- |
| Capital | Beijing |
| Population | Approximately 1.4 billion |
| Area | 9.6 million square kilometres |
| Official Language | Mandarin Chinese |
| Currency | Chinese Yuan (CNY) |
| Government | Communist Party-led single-party socialist state |
| Famous Landmarks | Great Wall of China, Forbidden City, Terracotta Army |
| Climate | Diverse (ranging from tropical to subarctic) |
| | |
In the year 1900, Soochow University was founded. This university is located in Jiangsu's Suzhou (Soochow), China. It's one of China's top universities for studying MBBS in China. They are also taken into account as a component of Project 211 of the Chinese Ministry of Education. The Humanities School, the School of Chemistry, the School of Chemical Engineering and Materials Science, the School of Textile and Clothing Engineering, and the School of Medicine offer courses for university majors.
In addition to 167 doctoral programmes with exceptional areas of emphasis, one professional doctoral programme, 244 master's stages with specific regions of emphasis, 21 expert master's programmes, and 124 undergraduate programmes, Suzhou University China currently offers 26 post-doctoral programmes, 24 primary subject doctoral programmes, 167 doctoral programmes with post-doctoral programmed, and one professional doctoral application.
Fee Structure of Soochow Medical University
Soochow Medical University fee structure is budgeted as they create it according to keep every student in mind. As there is a low-cost MBBS in China. University has multiple facilities prepared for the students involve their living facility, mess, labs, library, research centers, scientific labs, and many other facilities.
| Year | Tuition Fee (RMB) | Hostel Fee (RMB) |
| --- | --- | --- |
| 1st Year | 32,500 | 6,000 |
| 2nd Year | 32,500 | 6,000 |
| 3rd Year | 32,500 | 6,000 |
| 4th Year | 32,500 | 6,000 |
| 5th Year | 32,500 | 6,000 |
| Subtotal | 157,200 | 30,000 |
| | | |
Note 1 RMB = 11.60 INR
Why Choose Soochow University?
Soochow University, being a non-profit institution, is famous for its commitment to providing high-quality education. The university provide a huge range of bachelor's, master's, and doctorate programs across multiple disciplines.
Soochow University is a non-profit institution known for its high-quality education system.
The university offers a wide range of courses and programs at the bachelor's, master's, and doctorate levels in various fields of study.
With a history spanning 120 years, Soochow University has a selective admission policy based on entrance examinations.
International students are eligible to apply for enrollment at the university.
In addition to academics, Soochow University provides students with access to various facilities and services, including a library, sports facilities, financial aid opportunities, study abroad and exchange programs, and administrative support.
Soochow University Ranking
Under the guidance of skilled physicians and seasoned lecturers from Soochow University in Suzhou, China, students can practice their medical specialities. Because Soochow University has consistently been ranked highly and is included in the list of top universities worldwide.
| University | 4ICU World Ranking | 4ICU Country Ranking | QS Ranking |
| --- | --- | --- | --- |
| Soochow University | 1655 | 82 | 651-700 |
| | | | |
Courses Offered
Soochow Medical University offers courses for graduation, post-graduation, and Ph. D. programmes. They have every type of setup at their disposal for their pupils, and they give them the best education possible in every aspect. The goal of the university is to increase each student's knowledge in their specialised sector in a way that is confirmed in order to produce successful doctors. The university offers different departments.
Basic Medical Sciences
Clinical Medicine
Medicine
Public Health
Nursing
Pharmaceutical Sciences
Soochow Medical University Eligibility Criteria
For rapid admission, Indian students interested in studying MBBS in China should review the Soochow medical university University Eligibility Criteria.
Minimum age requirement is 17 years.
Physics, Chemistry, Biology, and English are mandatory subjects for higher education.
Minimum 50% score required in 10+2 in all the above-mentioned subjects.
SC/ST/OBC candidates require a minimum of 40% score in 10+2 in all the above-mentioned subjects.
Qualification in the NEET exam is a must.
Soochow Medical University Admission Process
Indian students who are interested in attending Soochow Medical University for MBBS in China can evaluate the entrance requirements for speedy admission.
Fill out the application form and attach a passport-sized photo.
Submit your 11th and 12th standard mark sheets and school leaving certificates.
Pay the required application, admission, and processing fees.
Send the processing fees to either China or India, based on the earlier option.
Receive the official photocopy of your Admission Letter within seven working days.
Begin the student visa process by applying at the nearest Chinese Embassy/Consulate.
Gather the necessary documents for the visa application, including a valid passport, photographs, Visa Application Form, JW202 Form, and Admission Letter.
Complete a health check-up and obtain a Physical Examination Record.
Upon arrival in China, be received by a representative at the airport and guided to the university hostel.
Assist in paying the admission and administrative fees at the university counter the next morning.
The timeline from receiving the Admission Letter to obtaining the China Visa is approximately one month.
Document Required at Soochow Medical University
This university is one of the MCI / NMC Approved Medical Colleges in China for Indian students. Mentioned below is the list of all the important documents :
10th & 12th Mark sheets
NEET Exam scorecard
Copy of passport
Candidates bank statement
Character certificate
Passport photograph
Medical Certificate
Advantages of Studying in China
Soochow University in Suzhou, China, mostly consider easy admission process, and is recognized by the Medical Council of India, providing affordable education with practical training opportunities and excellent infrastructure, focused on student development:
The administration of Soochow University in Suzhou, China prioritizes the safety and protection of its students and strictly discourages any misconduct.
Admission to Soochow University does not require additional entrance exams, making the process relatively easier for students.
Soochow University is recognised by the Medical Council of India.
The cost of studying and living at Soochow University is affordable compared to private medical schools in India.
The affiliated hospital provides ample opportunities for students to gain practical training for their future careers.
Hostel facilities for students include amenities such as a gym, basketball court, volleyball court, canteen, and common spaces for socializing.
The university boasts excellent infrastructure.
Soochow University focuses on the development of its students, providing them with the best possible opportunities in their respective fields.
An undergraduate MBBS course specifically tailored for Indian students is available.
The university offers abundant research and experimental opportunities.
World-class hospitals associated with the university ensure comprehensive and in-depth medical education.
The campus provides a variety of food options to cater to different tastes.
Accommodation options at Soochow University are designed to accommodate a large number of international students.
The university has carefully planned and structured fee arrangements to support students' financial needs.
Campus of Soochow Medical University
Soochow University's six campuses span 135 hectares, with a total building area of 940,000 square meters, including the renowned main campus at No.1 Shizi Street, known for its breathtaking beauty inspired by the classical gardens of Suzhou.
Soochow University comprises six campuses spanning a vast area of 135 hectares.
The university boasts a total building area of 940,000 square meters.
The main campus, located at No.1 Shizi Street, is renowned for its beauty.
The university has a total enrollment of over 39,000 students.
This includes more than 28,000 graduate and undergraduate students.
In addition, there are over 11,000 adult students enrolled in formal education programs.
The campus grounds are widely regarded as some of the most beautiful in China.
The design incorporates elements inspired by the classical gardens of Suzhou, adding to its charm.
Conclusion
AR Group of Education offers professional guidance for students who are interested in pursuing MBBS in abroad. Our team of award-winning counsellors has vast experience and knowledge in the field of international education. We provide comprehensive assistance, starting from selecting the right college to obtaining your visa and tickets, and even until you land in your dream college. Our expert counsellors are available round the clock to answer all your queries and provide assistance whenever you need it. Trust us to be your ultimate guide in fulfilling your educational aspirations to study MBBS abroad.
FAQ