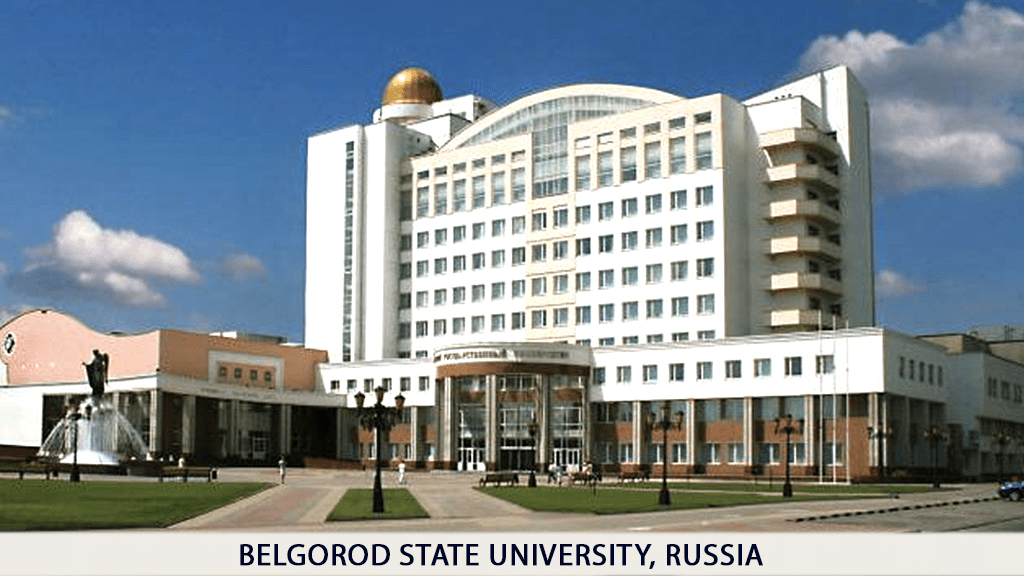 Belgorod State University: One of the leading Universities in Russia, providing the Best education to 30000 students with an extensive academic structure of 20 faculties and 1 institute. University provides an extensive range of Bachelor's and Master's Programmes in English with excellent teaching methodology and well-resourced teaching equipment Along with a remarkable Education Curriculum.
Belgorod State University now has 10 courses including medicine and International Business in which international students have the option of studying in Mbbs in English. Currently, BSU has over 850 foreign students from 67 countries across the world, and over 150 students from India to pursue medicine in English at the medical college of Belgorod. Foreign students have been studying in this university since 1980 and deservedly the university has a very good reputation and is ranked very high amongst higher education institutions across the world. BSU is providing all students with outstanding opportunities for Sports and Recreation. In a 2012 study across 103 public universities in Russia. Medical College of Belgorod State University was ranked among the 10 best medical universities in Russia. Today, the university is an international socio-cultural base. The campus brings together four dormitories accommodating over 3000 students from various countries. All foreign students live in comfortable dormitories and they have access to dance and fitness centers, chess clubs, and student café. Belgorod State National Research University was ranked 30th among 103 Russian state universities and about 500 branches, participated in the rating.
In May 2009 the results of the open selective competition of basic Institutions of Higher Education in Russia that makeup Shanghai Cooperation Organization (SCO) University was summed up in the Ministry of Education and Science. The competition committee chose Belgorod State University as one of the three basic Institutions of Higher Education, where students from SCO countries will master the field of Nanotechnology. The SCO University works as a system of already existent universities in SCO-member countries (China, Russia, Kazakhstan, Tajikistan, Republic of Kirghizia), and an observer country (Mongolia, India, Iran, Pakistan). Being an SCO University member opened prospects for academic mobility development.
In April 2010 the Belgorod State University was granted the Research University status among 15 major Russian universities. The new status creates special conditions for development. The victory in the competition shows the acknowledgment on the federal level that Belgorod State University can not only put the two-level system of personnel training for high-technology and applied research into practice but also provide effective technology transfer in the economy of Russia. Academic year The academic year starts on the first of September and ends at the end of June. It is divided into autumn and spring semesters.
Nowadays the National Research University Belgorod State University includes:
32 thousand students from 85 regions of Russia;
1800 international students from 76 countries of the World;
580 post-graduate students;
1800 lecturers, among them: 1 State prize-winners, 200 Doctors of Sciences, 800 Candidate of Sciences; 21 faculties 90 departments
110 fields of study, including 22 fields of Bachelors training and 27 fields of Masters training 61 fields of postgraduate and doctorate study 36 fields of fundamental and applied research
Bachelor's and Master's degree programs in English medium;
2 branches Medical college 14 (including 1 regional) Doctoral Councils
39 scientific centers and laboratories
Over 4,000 computers (BelSU, 2 branches, and Medical College). There is 1 computer per four full-time students;
72 computer classrooms (BelSU, 2 branches, and Medical College);
8 educational-scientific innovation complexes 12 Student collectives of amateur performances Scientific library and 7 reading halls 17 study buildings
4 dormitories, 18 refreshment rooms, 6 canteens, 4 student cafes
Saint Gabriel's Church
Publishing house Chemist's Natural park «Nezhegol» with recreation complex 7 museums (history of the university; criminalistics; zoological;
Judicial-medical investigation; historical, pedagogical, and international faculties museums) Clinic of medical-preventive medicine
The Institute of post-diploma medical education Center for Family Health Care The Youth Cultural Center
The Youth touristic cultural-and-sports complex Svetlana Khorkina's sports complex
If you are considering pursuing an MBBS in Russia, then Belgorod  State Medical University should be on your list of options. We, at A R Group of Education, can help you get admission to Belgorod State Medical University.