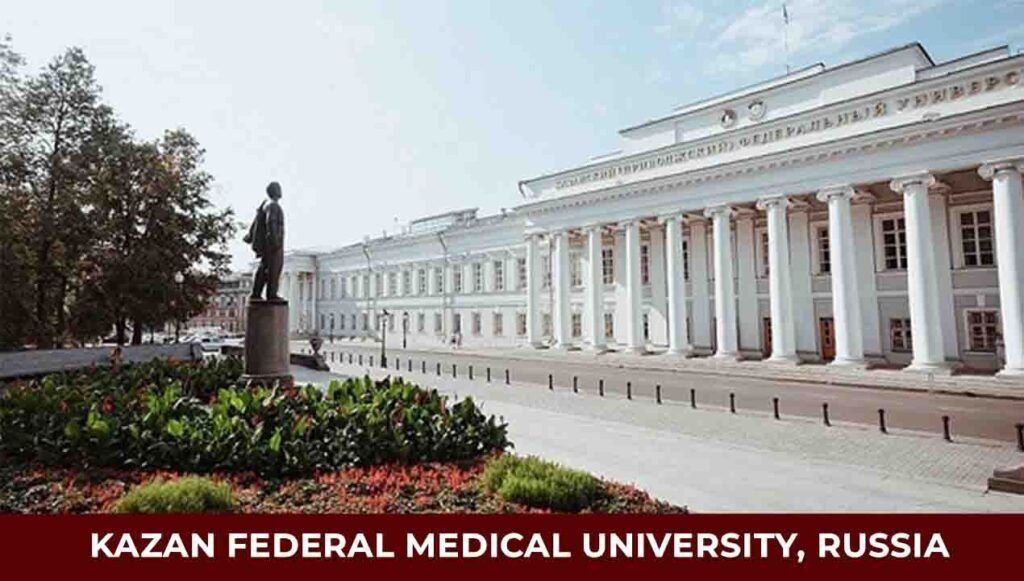 Indian students can save money by studying MBBS in Russia because the cost of tuition there is typically lower than in India. Foreign students may also be eligible for scholarships and grants, which can further lower the cost of tuition. Living expenses at university residences are reasonable, making them a more cost-effective choice for students. In fact, due to the close economic parity between the Ruble and the Rupee, grocery prices in Russia are comparable to those in India. 
About Russia
| | |
| --- | --- |
| Population | 147,182,123 |
| Area | 17,098,246 km2 |
| Capital City | Moscow |
| Language | Russian (official), Tatar, Ukrainian, Bashkir, etc. |
| Climate | Warm to hot in dry summers and (very) cold winters with temperatures of -30°C and lower |
| Literacy Rate | 100% |
| Time Zone | UTC+2 to +12 |
| Currency | Russian ruble (₽) (RUB) |
| Weather | June to august ( summer ) , september to october (autumn) , november to march ( winter ) , april to may ( spring ) |
| | |
Kazan Federal University, situated in Kazan, Russia, is famous as one of the most prestigious universities in the region. Its establishment dates back to 1804 when it was originally known as Imperial Kazan University. Over time, it transformed into Kazan Federal University while maintaining its esteemed status. The university has gained popularity among both Indian and international students due to its exceptional infrastructure and advanced teaching methodologies.
With its status as the second largest university in Russia, Kazan Federal University provides huge  range of educational opportunities. More than 50,000 students are enrolled annually in the university's 700+ degree programs, spanning both undergraduate and postgraduate levels. The university's commitment to academic excellence is reflected in its diverse curriculum and extensive program offerings.
Overview of Kazan Federal Medical University
| Category | Details |
| --- | --- |
| Year of Establishment | 1804 |
| Type | Government |
| Recognition | NMC and WHO approved |
| Eligibility | 50% in Physics, Chemistry, and Biology Aggregate |
| Course Duration | 6 Years (with internship) |
| NEET | Yes, compulsory |
| IELTS/TOEFL | Not Required |
| Medium of Teaching | English |
| | |
Why to choose this Kazan Federal Medical University?
Kazan Federal University caters to both national and international students.The medium of teaching at the university is English, eliminating the need to learn the local language. Mentioned below the top reasons to choose kazan federal university : 
There are no donation charges or additional fees for admission.
Scholarships are provided by the university for both national and international students.
The faculty members at Kazan Federal University are highly experienced and skilled in their respective fields.
The university promotes cultural and other extracurricular activities to foster the overall development of students.
Hostel facilities are available at Kazan Federal University, offering affordable accommodation with all essential requirements for students.
The university has its own hostels that provide full facilities for students' convenience.
Kazan Federal Medical University Fees Structure 
Those applicants who are looking for an affordable MBBS program for which the Kazan Federal University is the best choice. Students can check the yearly Kazan Federal Medical University Fee Structure mentioned below and easily pursue the program at a low cost. 
| Year | Tuition Fee | One-Time Charges | Hostel Charges | Total |
| --- | --- | --- | --- | --- |
| 1st year | 4,68,000 RUB | 1,50,000 RUB | 12,000 RUB | 6,30,000 RUB |
| 2nd year | 4,68,000 RUB | – | Optional | 4,68,000 RUB |
| 3rd year | 4,68,000 RUB | – | Optional | 4,68,000 RUB |
| 4th year | 4,68,000 RUB | – | Optional | 4,68,000 RUB |
| 5th year | 4,68,000 RUB | – | Optional | 4,68,000 RUB |
| 6th year | 4,68,000 RUB | – | Optional | 4,68,000 RUB |
| GRAND TOTAL | | 1,50,000 RUB | | 29,70,000 RUB |
| | | | | |
Note:- 1 ruble = 1 INR 
Admission process At Kazan Federal Medical University
Any student who wants to apply to Kazan Federal Medical University to study MBBS in Russia has to follow the following admission procedure:
Step 1 : Open the application form on the Kazan Federal Admission portal.
Step 2 : Fill the application form accurately.
Step 3 : Attach the following documents for Kazan Federal Medical University admission:
Step 4: Scanned copy of marks of higher secondary education, Result of NEET exam and Scanned copy of passport.
Step 5 : Upon fulfilling the conditions, you will receive a provisional admission letter from the university.
Step 6 : Once your visa invitation is ready, the university will mail it to you.
Step 7 :Stamp your visa with the Russian Federation by visiting the nearest Russian embassy or consulate.
Step 8 : Follow their instructions and provide the necessary documents for the visa stamping process.
Eligibility Criteria At Kazan Federal Medical University
The admission criteria to study MBBS at Kazan Federal Medical University is as follows:
The applicant must be at least 17 years of age before December 31st of the year of application.
The maximum age permissible for application to the university is 25 years.
The student must have completed their 12th standard with Physics, Chemistry, and Biology as major subjects, along with English.
The student must have completed their 10th standard from a board recognized by the Indian Government.
The student is required to score a minimum aggregate of 50% in Physics, Chemistry, and Biology in the 12th standard.
The applicant must have cleared the NEET exam with a sufficient score.
Documents required 
Indian medical aspirants are required to submit the following documents during MBBS admission to Kazan Federal Medical University.
Class 10th pass certificate and mark sheet
Class 12th pass certificate and mark sheet
NEET score card
Birth certificate
Valid passport
Passport-size photographs
Medical test report including HIV negative report.
About Kazan City
Kazan, a city located in Russia, is widely recognized as the sports capital of the country and also holds the distinction of being a University City. It boasts excellent connectivity through various modes of transportation, including buses, railways, a river port, and an international airport. The city's transport network is highly developed and encompasses trams, buses, trolleybuses, and a metro system, ensuring convenient travel for residents and visitors alike.
In terms of climate, Kazan experiences a warm, mild, and temperate weather pattern. The average annual temperature in the city is around 11 degrees Celsius, providing a comfortable environment for its residents and allowing for a range of outdoor activities throughout the year. Kazan's geographical location is advantageous, as it is situated a mere 860 kilometers away from Moscow, making it easily accessible for travellers from the Russian capital.
Hostel facilities at Kazan Federal Medical University
The university understands the importance of aliving environment and to affordable accommodation options.The university's hostels have range of facilities and amenities to cater to the needs of students. These amenities include playgrounds, where students can engage in recreational activities and sports. A swimming pool is also available for students to relax and stay active.
The university encourages a vibrant social life through various clubs and cultural activities, allowing students to pursue their interests and engage with fellow peers.  A cafeteria is provided to ensure students have access to quality meals conveniently.Safety and security are prioritized, with measures in place to ensure a secure environment for students. Medical facilities are available on campus to address any health concerns that may arise, providing students with easy access to healthcare services.

Accreditation and Recognition
Kazan Federal University holds several recognitions and affiliations, signifying its high standards of education and global recognition. These include:
Recognition by the Ministry of Science and Higher Education of the Russian Federation: 
Recognition by the Medical Council of India 
Affiliation with EUA, IAU, EURAS, AMBA
WHO Approval
MBBS Syllabus At Kazan Federal Medical University 
| Year | Semester | Subjects |
| --- | --- | --- |
| 1st year | 1st | Anatomy |
| | 2nd | Anatomy and Histology |
| 2nd year | 3rd | Histology, Biochemistry, Psychology & Pedagogy, Cell Biology, Microbiology, General Pathology |
| | 4th | Biochemistry, Micro-Biology, Physiology |
| 3rd year | 5th | Pathology, Pharmacology, Micro-Biology and Path Physiology |
| | 6th | Pathology, Path Physiology, Genetics and Principles of Clinical Medicine |
| 4th-6th year | 7th-12th | Oncology, Paediatrics, Neurology, Obstetrics and Gynecology, Psychology, Emergency Medicine, Internal Medicine, General Surgery, Primary Care Medicine, Neurology and Psychiatry, ENT and Cardiology |
| | | |
Why Study MBBS at Kazan Federal Medical University?
The admission process is designed to be seamless, making it easier for aspiring students to apply and secure a place at the university. The university provides clear guidelines and support throughout the application process, facilitating a smooth transition for international students.
Affordability is another significant advantage of studying at Kazan Federal University. The tuition fees for international students are economical, making it a cost-effective option for pursuing a medical degree.
The university has a faculty of nearly 3000 professors, the majority of whom hold doctorate degrees. This wealth of expertise ensures students receive high-quality instruction and guidance from accomplished professionals in the field of medicine.
Duration of MBBS in Kazan Federal Medical University
The MBBS course at Kazan Federal University has a total duration of 6 years, which includes both classroom studies and an internship. The program consists of 5 years of comprehensive theoretical and practical classroom studies, followed by 8 months of apprenticeship. Upon completion of the course, students are required to complete 1 year of practical training in India. This practical training is to be undertaken after clearing the FMGE/NEXT exams.
Authorized Admission Partner of Kazan Federal Medical University
A R Group of Education is committed to helping students get accepted to this esteemed university as the sole recognised partner of Kazan Federal Medical University. Our team is knowledgeable about the university's needs and practises, and we appreciate how important it is for the admissions process to be easy .
Aspiring students can count on our help and direction along the way. We are dedicated to making the process of studying medicine at Kazan Federal Medical University as easy as possible, from aiding with application submission to providing help on visa requirements and documentation. Students are given the information and direction they need to realise their ambition of studying medicine overseas thanks to our expertise and understanding in the subject.
 Kazan Federal Medical University Ranking 
As reported by 4ICU, Kazan Federal University is ranked fifth in the nation when looking at the list of top medical schools in Russia.
| Ranking | Position |
| --- | --- |
| Country Rank | 5 |
| QS World Rank | 370 |
| | |
Students Life At Kazan Federal Medical University
Within the campus, students have access to a multitude of facilities to meet  their needs. These include a medical center, drugstore, sports equipment rental station, copy center, laundry services, beauty salon, and cafeteria, among others. The presence of these facilities ensures that students can attend to their daily needs conveniently and efficiently.
Sports and physical activities are highly encouraged at KFU, with an impressive infrastructure in place. The UNIX Center houses 10 sports halls, including the World University Games Sporting Center Bustan, which was recently constructed in 2013. The facilities at the Universiade include a swimming pool, ice rink, and a multi-purpose sports complex. KFU provides students with a wide range of sports activities, offering 24 different options that include aerobics, track and field athletics, table tennis, basketball, volleyball, martial arts, rock-climbing, swimming, football, and more.
Kazan Federal University takes pride in its extensive international collaborations. With partnerships established with approximately 190 universities and research centers across more than 53 countries, KFU provides students with invaluable opportunities for global exposure, cultural exchange, and collaborative research endeavors.
Faculties of Medicine at Kazan Federal Medical University
Kazan Federal University gives you a huge range of faculties, providing specialized education in various fields. The faculties at Kazan Federal University include:
Faculty of Dentistry
Faculty of Human Health
Faculty of General Pathology
Faculty of Simulation Medicine
Faculty of Clinical Medicine
Faculty of Surgery
Conclusion 
If you are considering pursuing an
MBBS in Russia
, Kazan Federal Medical University should definitely be one of the options on your list. At A R Group of Education, we are dedicated to assisting students in securing admission to Kazan Federal Medical University. We provide comprehensive support throughout the admission process, ensuring a smooth and hassle-free experience for aspiring students to pursue dream from MBBS abroad . Our team is well-versed in the university's requirements and procedures, and we strive to guide and assist students at every step. With our expertise and knowledge, we aim to help students fulfill their dream of studying medicine at Kazan Federal Medical University.