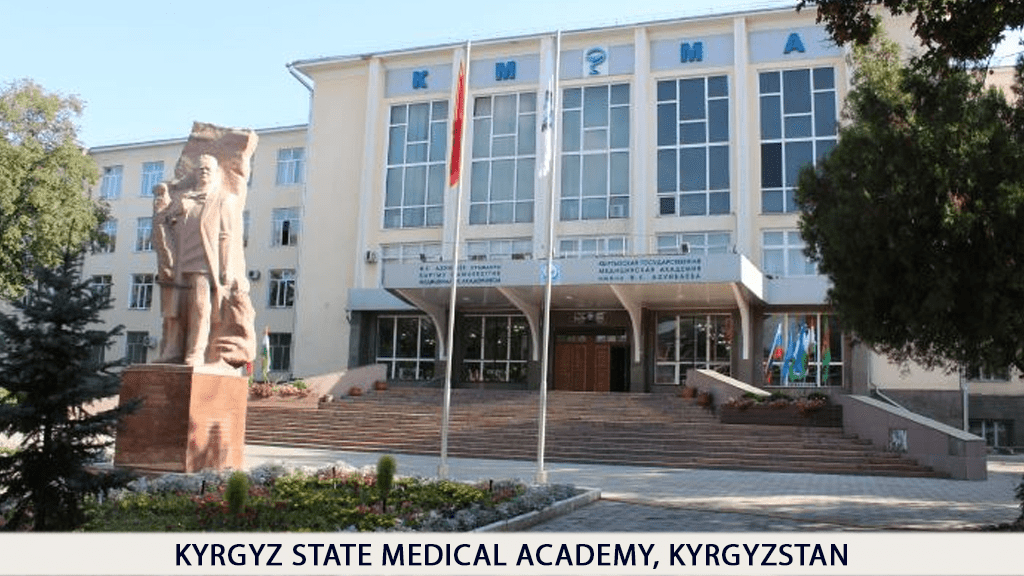 IK Akhunbaev Kyrgyz State Medical Academy is one of the oldest medical Universities that is located in Bishkek (National Capital of Kyrgyzstan). It was founded in the year 1939. The world-class education system of this university and the resources available here attract students globally. Top Medical Colleges in Kyrgyzstan are globally praised for providing a standard education and training students to work at the world level.
Every year plenty of Indian Medical students fly to study MBBS in Kyrgyzstan and due to the better facilities offered by this university, students choose to study MBBS at Kyrgyz State Medical Academy. Not only Indian Students but the university receives applications from various parts of the world.
Kyrgyz State Medical Academy is recognized by international organizations such as the National Medical Commission, the world health organization, IMED as well as FAIMER. This approval allows students to work globally. Also, the classroom language is English, so students will never feel a language barrier.
Kyrgyzstan State Medical Academy is counted as an NMC-approved Medical college in Kyrgyzstan. It offers standard accommodation arrangements in the University hostel facilities to all its students and has a special feature of serving Indian food in their mess.
Why Choose Kyrgyzstan State Medical Academy?
The Kyrgyz State Medical Academy is the finest NMC-approved medical institute in the country. Aspirants can easily apply for admission here and enjoy the low-cost MBBS course here. One of the top-ranked medical universities best for pursuing MBBS in Kyrgyzstan. It offers different medical programs in multiple specializations.
University provides better accommodation for international candidates with all the living facilities. One of the best colleges to study MBBS in Kyrgyzstan for Indian students. For admission here, aspirants don't require to provide any donation amount. Below is the list that gives you an idea that why admission to the college is the best choice.
Offers the English language program to international candidates.
MBBS degree is globally recognized.
Ranked in a top medical university in Kyrgyzstan.
Approved by NMC, WHO, and other international educational firms.
The admission process is so simple.
Well-educated medical faculty.
Globally accepted MBBS degree.
Highly demanded medical university for MBBS in Kyrgyzstan.
Best accommodation for foreign aspirants.
Kyrgyzstan State Medical Academy Ranking
Kyrgyzstan State Medical Academy Ranking is 7th rank in Kyrgyzstan and 8185th rank at the world level. This ranking is because of the resources offered during MBBS in Kyrgyzstan following reasons:
KSMA is a government-owned medical institution.
experienced and qualified teachers are specialized in medical education
 Has a good rate of FMGE passing.
Quick Highlights 2022

University Founded in

1939

Language of Classroom

English

Approval from

1.National Medical Commission

2. Central Ministry of Science & Education of Kyrgyzstan

3. World Health Organization

4. FAMIER

MBBS eligibility

50% or more marks in 12th board exam

Annual cost

USD 5500 (4,12,000 INR)

NEET Qualification

Required for Indian Students

MBBS duration

5 years
Admission Eligibility Criteria
The university offers direct admission in the MBBS course once students fulfill the admission Eligibility Criteria in Kyrgyz State Medical Academy. Admission requirements are the same for every student but for Indian students' NEET exam.
The candidate should be a min of 17 yrs. old before the 31 December of the admission year
The candidate must obtain at least 50% in 10+2 from equivalent from a recognized education board with physics, chemistry, and biology as main subjects in higher secondary.
The candidate should qualify for the NEET for admission into Kyrgyzstan State Medical Academy.
Important Documents:
Valid Passport
10th mark sheet
12th mark sheet
Passport size photos
Birth certificate
NEET scorecard
Medical Certificate
Medical Insurances
Kyrgyzstan State Medical Academy Advantages
A low and affordable fee of the university
Smart classrooms
Standard teaching infrastructure and advance labs
Job security and opportunities across the world
Good rate of FMGE exam passing rate
Direct admission in MBBS study Program
No Entrance test required
Indian Foods are available in university Mess
Indian Students already studying here
The English Language will be classroom language
Ragging Free Campus
Kyrgyzstan State Medical Academy Hostel
The following hostel amenities are offered by Kyrgyz State Medical Academy to all its students:
The hostels are well furnished and equipped with modern facilities for the students.
The rooms are on sharing basis, one room can be shared by 3-4 students.
The hostel provides a safe environment and is guarded.
There is faculty of mess available in the hostel
The Indian students are offered the facility of Indian food in the messes of the hostel
Kyrgyzstan State Medical Academy has one of the best hostel facilities.
How A R Group Of Education can assist you to get Hustle Free Admission for MBBS in Kyrgyzstan:
Getting admission to a new college and settling in a new city is really difficult, especially when you are going away from your home and your parents. We will make all the arrangements for the students.
Our services for you provide information about the college, courses, syllabus, fee structure and etc.
Application process
Creating a standard profile
Documentation
Economical air Ticket
Airport Pickup
Accommodation Arrangements
Campus support
The university is honest and offers students a hassle-free admission process. Students should pursue MBBS in this college and enjoy the experience.