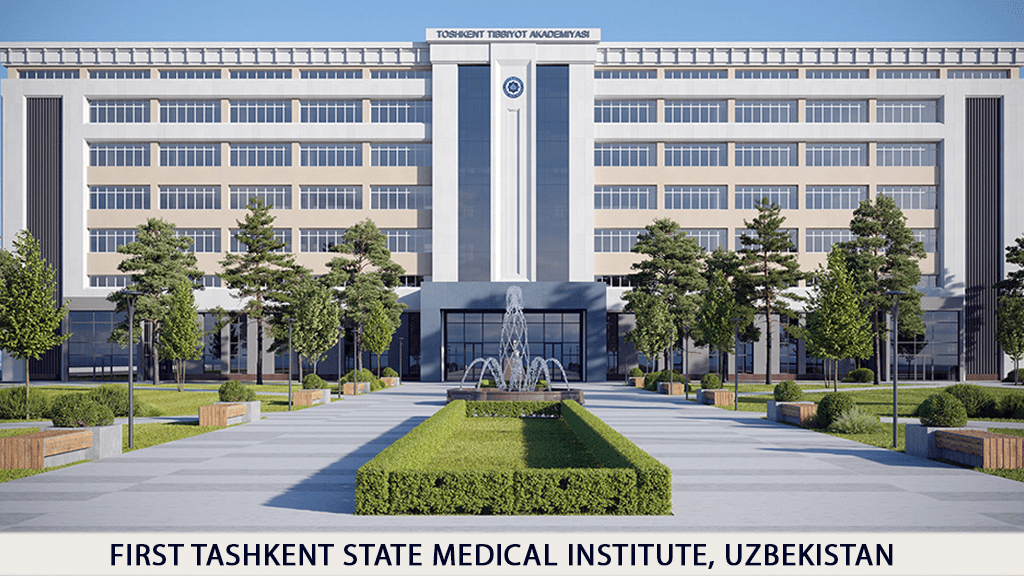 The president of the Republic of Uzbekistan established the Tashkent Medical Academy on July 19, 2005. Faculty such as General Medicine, Pedagogy, and Nursing was initially established at the academy, with a total capacity of 4662 students. The institute educates around 765 postgraduates and 205 physicians. Tashkent Medical Academy's MBBS program is based on the production of highly trained professionals on 58 chairs through the acquisition of clinical skills. Under a grant on the environment and human health, the institute implemented the "On coordination and monitoring of research works." There are seven separate scientific councils within the institute.
Affiliation and Recognition of Tashkent Medical Academy
Tashkent Medical Academy have formed partnerships with several foreign departments of education and research organizations to build partnerships between prominent higher education institutions in NIS nations and outside. The University is recognized by WHO, MCI, and UNESCO.
Recognized by MCI (Medical Council of India)
NMC and WHO approved
Seoul University
Humboldt University (Berlin)
Russian State Medical University
Samara State Medical University
Moscow State Medical University
Family Medicine Residency center
Chkhonnam State University (Korea)
Why Study MBBS at Tashkent Medical Academy
For those interested in pursuing MBBS at Tashkent Medical Academy, no special degree is required; the NEET scorecard would sufficient.
The medical academy in Tashkent is a ragging-free zone.
Tashkent Medical Academy offers an internationally recognized MBBS degree.
Tashkent Medical Academy has easy access to transportation.
The institution provides financial assistance to students through scholarship programs.
Students at the Tashkent Medical Academy can stay in a hostel.
First Tashkent State Medical Institute has a high level of security.
Advantages of MBBS at Tashkent Medical Academy
The institute provides world-class education at a reasonable cost.
The institute takes into account regional characteristics such as religious freedom and legal defense, both of which are vital for Asian and Latin American countries.
Training centers and clinical bases provide world-class instruction to young minds with well-equipped classrooms, fundamental scientific and clinical laboratories, and clinical bases.
Students benefit from the university's collaboration with international scientific and educational centers, which offer them information and exposure.
The university's seasoned team is continually striving to apply cutting-edge teaching methods.
Duration Of MBBS In Tashkent Medical Academy
The Tashkent Medical Academy's MBBS program lasts five years: The Tashkent Medical Academy's MBBS program lasts five years and includes an internship. To obtain an MBBS degree, the course must be completed in five years.
Faculties of Tashkent Medical Academy
Faculty of Medicine
Faculty of Dentistry
Faculty of Pharmacy
Faculty of neuroscience
Faculty of pediatrics
Faculty of surgery
Faculty of postgraduate programs
Tashkent Medical Academy ranking
| | |
| --- | --- |
| In Uzbekistan | 7 |
| Tashkent Medical Academy world ranking is | 5882 |
Eligibility To Study MBBS In Tashkent Medical Academy
The applicant must have a cumulative score of 55 percent for open caste students and 45 percent for reserved caste students in Physics, Chemistry, and Biology.
A person's age should not be less than 17 years old and not more than 25 years old.
Applicants must have completed 12th grade or an equivalent diploma from a recognized institution.
Enrollment in Tashkent Medical Academy's MBBS programs requires NEET clearance.
Tashkent Medical Academy Admission Process
Tashkent Medical Academy's management gives the following information for admission to the MBBS program at Tashkent Medical Academy:
Step 1: Fill out the application form on the Tashkent Medical Academy's website.
Step 2: Address the application to the Tashkent Medical Academy's rector, noting the language and type of training.
Step 3: The applicant must present notarized copies of documents that have been translated into Russian or Uzbek.
Document Required For Tashkent Medical Academy Admission
Copy of Passport
Mark sheets copy
Certified copy of your birth certificate
Medical certification
Receipt of Funds
Admissions statement (invitation letter)
Photographs (Passport size)
Syllabus of MBBS in Tashkent Medical Academy
| | |
| --- | --- |
| Semester | Subjects |
| 1-semester | Medical Chemistry, Fundamentals of Psychology, Histology, Bioorganic Chemistry |
| 2nd semester | Cytology, Embryology, Human Anatomy, Elective Courses |
| 3rd-semester | Histology, Physiology, Human Anatomy, Biochemistry, Microbiology |
| 4th-semester | Microbiology, Emergency Medicine, Patient Care, Embryology |
| 5th-semester | Pharmacology, Pathomorphology, Pediatrics, Internal Medicine, General Surgery |
| 6th semester | Ecology, Radiology, Elective Courses, Biostatistics |
| 7th, and 8th-semester | Tuberculosis, Surgery, Obstetrics and Gynecology, Urology, Neurology, Ophthalmology, Narcology, Medical Psychology, Forensic Medicine, Social Medicine |
| 9th and 10th-semester | Infectious Diseases, Oncology, Epidemiology, Gynecology, Traumatology, Medical Genetics, Social Medicine, Obstetrics, Clinical Immunology |
| 11th and 12th Semester | Elective Courses |
Hostel And Accommodation At Tashkent Medical Academy
Foreign students can stay at First Tashkent State Medical Institute with the following amenities. There are 5 student dormitories with a total capacity of 1700 students at the institute. Tashkent Medical Academy's hostels are managed by the TMA administration and the Directorate of the Dormitory following the academy's regulations. A turnstile is erected at the hostel's entrance to prohibit strangers from entering the hostel and to safeguard the safety of the students. Student dorms are assigned, to individual district guards. Each hostel offers a common area with a modern TV and furniture, as well as a kitchen, computer rooms, and a library.
Living Cost at Tashkent Medical Academy
The cost of living in Uzbekistan is comparatively low. For accommodation, it will cost around 100 to 200 USD. For food expenses, it will cost around 100 to 150 USD. Transportation costs will be around 10 to 50 USD.
Why MBBS in Uzbekistan?
There are a few key characteristics that are also Reasons to Study MBBS in Uzbekistan:
Many government-funded universities exist in Uzbekistan, and the MCI recognizes some of them.
To gain admission to a good medical university in Uzbekistan, students are not required to take any language competency examinations.
The medium of teaching in Uzbekistan's medical universities is English, which makes it easier for Indian students to study there.
Students from India gain international experience, and it should be highlighted that Uzbekistan is a safe place for Indian students.
Benefits of Study MBBS in Uzbekistan
The cost of learning MBBS in Uzbekistan is one of the key benefits. When compared to some of India's private medical institutes, you'll find that the cost of schooling is lower.
Many medical universities in Uzbekistan are accredited by MCI and international organizations such as the World Health Organization.
In Uzbekistan's medical universities, English is the medium of instruction. As a result, Indian students will have no difficulty enrolling in Uzbekistan's medical universities.
The level of medical education in Uzbekistan is excellent, and the country's universities have excellent infrastructure.
Our Assistance for MBBS Admission in Tashkent Medical Academy
The A R Group Of Education is one of the principal consultants in the field of international studies. It has assisted around 10,000 students with their immigration applications. Through overseas education, the agency can support you in achieving your goals. Furthermore, they are responsible for all major and minor procedures such as profile evaluation, university shortlisting, application preparation, admissions access, and visa procedures, among others. We can be among the pioneers in successful overseas education because of the agency's systematic working style. With the help of the agency, you'll be able to go forward in the appropriate direction.