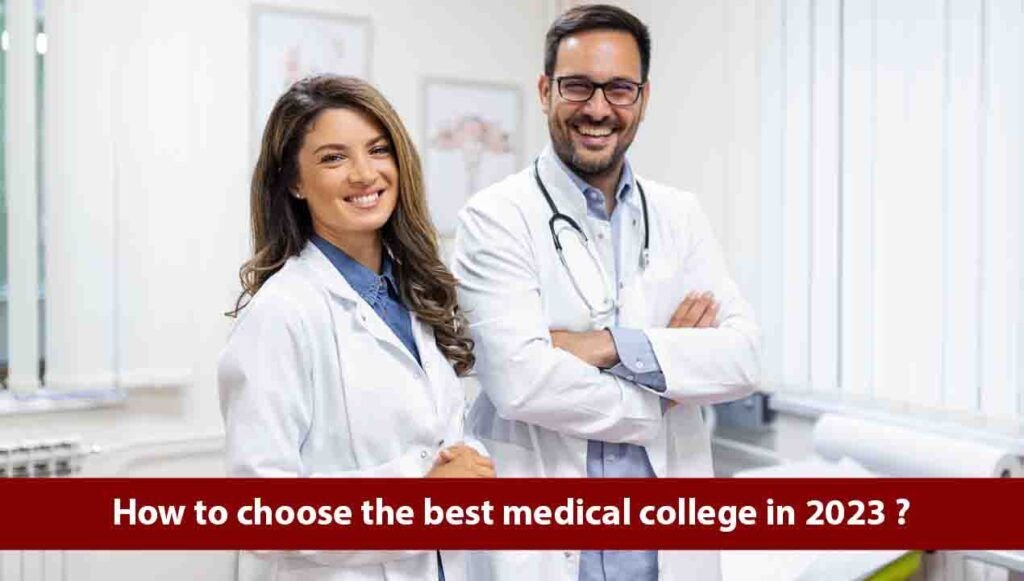 Choosing the right medical college after completing your 12th class in the medical stream can be a difficult task given the vast number of options available both nationally and internationally. It is crucial to exercise patience and diligence in selecting the best college, as it will shape your future career prospects. Your college education will enable you to build on your foundational knowledge and develop essential skills for your chosen profession.
To identify the ideal medical college for admission, there are several key factors to consider :
Total expenses : Choosing the best college to study MBBS abroad requires you to consider your budget first. Some colleges offer the complete course expenses, including food and hostel, at a low cost, while others can charge you more than 25-30 lakh for the same facilities.
Mode of teaching : To avoid language barriers and gain a clear understanding of the subject, it is important for students to ensure that the medium of instruction for the MBBS programme they are considering abroad is English before taking admission.
Recognition : It is crucial to keep in mind that pursuing an MBBS degree from an international institution is only considered valid in India if the institution is recognized and approved by the National Medical Commission. This is especially important for students who plan to practice medicine in India after completing their degree.
Location of the university : Although it may not be crucial in terms of the quality of education, the location of the MBBS abroad college is still an important factor to consider. This is one reason why countries like the Philippines, Russia, Uzbekistan and Kyrgyzstan are becoming popular choices for MBBS studies abroad, as they offer favorable living conditions and amenities
Duration of courses : Compared to India, different countries have varying education systems that offer flexibility in the course duration. For example, medical universities in Russia, China, and Ukraine have a 6-year course duration. While , in Georgia, medical universities have both 5 and 6 years courses.. In Kyrgyzstan, some universities provide a 5-year course duration. It's important for students to understand that saving a year in their education is significant, and course duration is a crucial factor to consider when choosing a medical college abroad.
Top medical college in abroad and fee
Several colleges offer MBBS courses in abroad. Below we have compiled the top 5 medical universities abroad :
| University Name | Tuition / Fees |
| --- | --- |
| First Moscow State Medical University, Russia | INR 41,00,000 |
| LN Medical College, Kyrgyzstan | INR 22,54,000 |
| Kursk State Medical University, Russia | INR 18,20,000 |
| Batumi Shota Rustaveli State University, Georgia | INR 18,75,000 |
| Bashkir State Medical University, Russia | INR 18,59,000 |
| Astana Medical University , Kazakhstan | INR 15,00,000 |
| | |
Top Medical College in India
Several colleges offer MBBS in India. Below we have the top 10 medical colleges in India :
| Name | State |
| --- | --- |
| Christian Medical College | Tamil Nadu |
| Jawaharlal Institute of Post-Graduate Medical Education & Research | Pondicherry |
| National Institute of Mental Health & Neuro Sciences | Karnataka |
| All India Institute of Medical Sciences, Delhi | Delhi |
| Kasturba Medical College, Manipal | Karnataka |
| Sanjay Gandhi Postgraduate Institute of Medical Sciences | Uttar Pradesh |
| Amrita Vishwa Vidyapeetham | Tamil Nadu |
| Sree Chitra Tirunal Institute for Medical Sciences and Technology | Kerala |
| Post Graduate Institute of Medical Education and Research | Chandigarh |
| Banaras Hindu University | Uttar Pradesh |
| | |

Conclusion
AR Group of Education
is a professional education consultancy that assist you in finding the best college for your
MBBS in india
and MBBS in abroad . Their experienced team of education consultants can provide you with expert guidance and support throughout the entire college admission process.
AR Group of Education offers a range of services that can help you make informed decisions about your college education. They can provide you with information about various colleges and universities, including admission requirements, course offerings, and tuition fees. They can also assist you in the application process, including completing and submitting application forms.