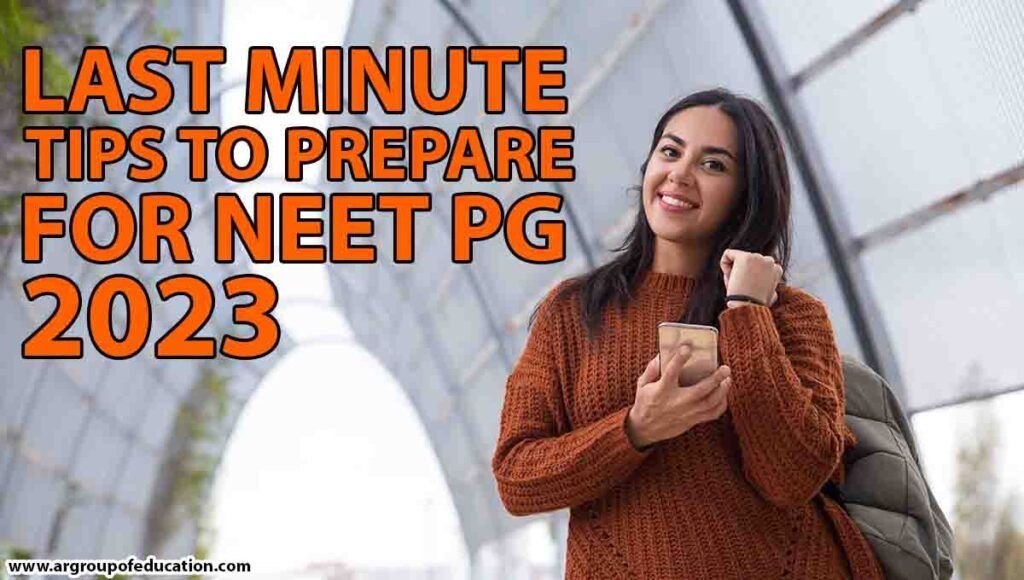 NEET PG 2023 is one of the most competitive medical entrance exams in India, and with the exam approaching fast, it's essential to make the most of your preparation time. Here are some last-minute tips to help you prepare for the exam.
Revise thoroughly: At this point, it's important to revise all the topics you've covered during your NEET PG 2023 preparation. Go through your notes and revise the concepts, formulas, and theories.
Practice with mock tests: Take as many mock tests as you can. This will help you get familiar with the exam pattern, manage your time better, and identify your weak areas.
Go through the previous question paper: Refer to the previous year's question papers to get an idea of the exam pattern and difficulty level. Additionally, many coaching institutes and publishers offer previous question papers and study material for NEET PG exam preparation. You can try practising these question papers to assess your preparation level and identify areas that need improvement.
Focus on your weak areas: Use your mock test results to identify your weak areas and focus on improving them. Spend more time on the topics that you find difficult and try to get a good grip on them.
Manage your time: Time management is crucial during the exam. Practice solving questions quickly and accurately. Divide your time for each section of the exam and stick to it.
Stay calm and positive: It's natural to feel nervous before the exam, but try to stay calm and positive. Trust your preparation and believe in yourself. Do some relaxation exercises and meditation to help calm your nerves.
Eat well and sleep well: Eating well and getting enough sleep is important for your overall health and well-being. Make sure you eat a healthy, balanced diet, and get at least 7-8 hours of sleep each night.
Read the question carefully: Read the questions carefully before attempting to answer them. Don't rush through the questions and make sure you understand what is being asked.
Use shortcuts: During the exam, you can use shortcuts to save time. For example, use the elimination method to rule out options that are obviously incorrect.
Don't get stuck: If you come across a question that you find difficult, don't get stuck on it. Move on to the next question and come back to it later if you have time.
Stay updated with current affairs: Stay updated with current affairs related to science and technology, medical breakthroughs, and healthcare-related news. This will help you answer questions related to these topics.
In conclusion, preparing for NEET PG 2023 requires dedication, hard work, and smart strategies. Remember to stay focused, stay positive, and believe in yourself. Preparing for NEET PG 2023 requires a disciplined approach and consistent effort. With the exam approaching fast, it's important to make the most of your preparation time. By revising thoroughly, practicing with mock tests, focusing on your weak areas, managing your time, staying calm and positive, eating well and sleeping well, reading the questions carefully, using shortcuts, not getting stuck, and staying updated with current affairs, you can give your best shot at the exam.