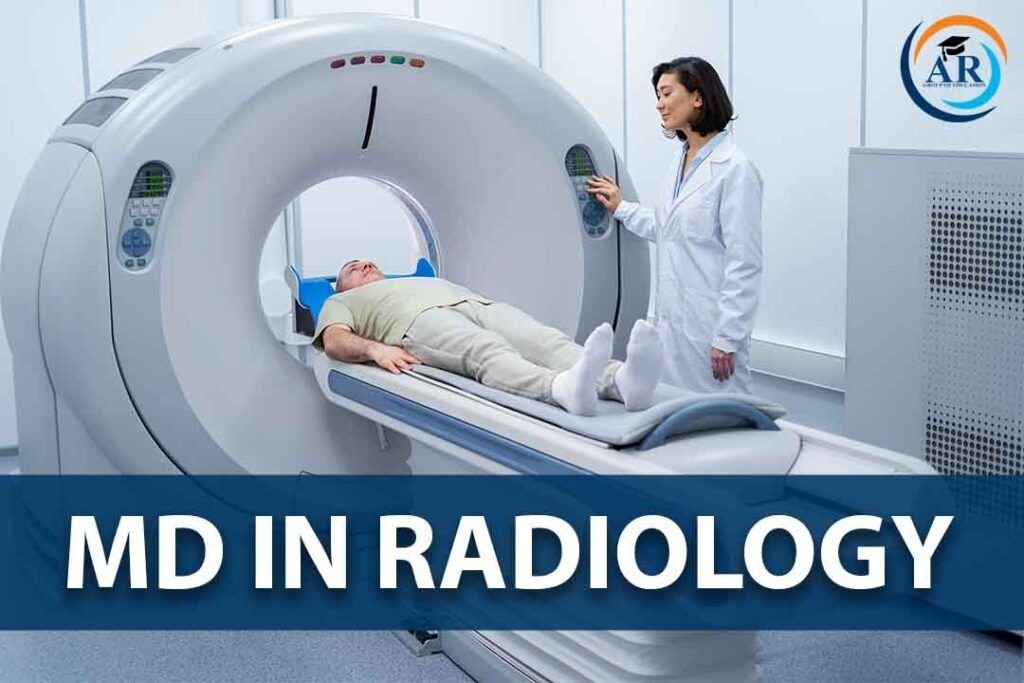 Doctor of Medicine in Radiology is a postgraduate medical program with a duration of three years. This course focuses on the science of radiology, which involves the use of X-rays and other high-energy radiation to identify medical issues and determine the appropriate treatment. A radiologist, who is also a physician, uses radio technology to diagnose medical conditions and provide treatment options.
The program provides in-depth knowledge on various aspects of radiology, such as the production of X-rays, radio physics, interaction of radio with the matter, radiography, special radiography, radiation detection and measurement, among others.
MD in Radiology : Overview
| | |
| --- | --- |
| Course Name | Doctor of Medicine in Radiology |
| Course Level | Postgraduate |
| Duration | 3 years |
| Eligibility | M.B.B.S + Internship |
| Entrance Exam | NEET – PG |
| Average Course Fee | INR 40,000 Per Annum to 8 Lakhs Per Annum |
| Job Profile | Diagnostic medical sonographer, MRI Technician, CT scan technologist etc. |
Why Pursue MD in Radiology?
Many people choose to pursue radiology as a profession because they find the diagnostic challenges interesting.
Radiology offers numerous opportunities for professional development.
The field of radiology provides knowledge on radiography, radiation protection, image formation, radio diagnosis, CT scan, MRI, and Mammography, among others.
Pursuing a postgraduate degree in radiology can also be a suitable path for those interested in pursuing a PhD since it provides ample knowledge about the field.
MD in Radiology Eligibility
To be eligible for an MD in Radiology, students must have completed 10+2 education in the science stream with biology and chemistry as major subjects and obtain a minimum of 60% aggregate from a recognized institution.
Students must then complete a 5-year MBBS degree or a similar degree in medical science, with at least 55% aggregate.
They must also complete a 1-year in-house internship during their MBBS course.
Candidates need to pass the NEET-PG or other designated entrance exams with the required marks.
MD in Radiology Admission Process 
To pursue MD radiology, applicants need to clear the NEET PG medical exam conducted by NBE.
The aspirants must qualify NEET-PG with the required cutoff percentile in individual categories i.e. for the general 50th percentile and 40th percentile for SC, ST and OBC to get admission in MD radiology.
The medical seats are available under different seat quotas like management quota seat, all India quota seat and institution quota seat.
The required percentile for the general category is a minimum cut off 50% and for SC/ST minimum cut-off is 40%.
Students can opt for these quotas during NEET-PG Counseling.
Top Colleges and their Fees for MD in Radiology
| College Name | Course Fees |
| --- | --- |
| Christian Medical College | 3,00,000 to 4,00,000 INR |
| Karnataka Institute of Medical Science | 1,00,000 to 1,40,000 INR |
| Bharti Vidyapeeth Medical College | 50,000 to 75,000 INR |
| University College of Medical Science | 50,000 to 80,000 INR |
| KS Hedge Medical Academy | 1,00,000 to 2,00,000 INR |
| AFMC Pune | 30,000 to 55,000 INR |
| Kasturba Medical College | 2,55,000 to 4,55,000 INR |
| JSS Medical College | 5,00,000 to 8,00,000 INR |
| MS Ramaiah Medical College | 6,00,000 to 10,00,000 INR |
| St.John Medical College | 3,00,000 to 5,55,000 INR |
| Rajendra Medical College | 1,00,000 to 1,70,000 INR |
| Bhaskar Medical College | 2,50,000 to 5,00,00 INR |
| Kurnool Medical College | 50,000 to 55,000 INR |
Conclusion :
Pursuing MD in Radiology can open up career opportunities as a diagnostic medical sonographer, MRI technician, CT scan technologist, and more. AR Group of Education is a leading provider of comprehensive services for students interested in pursuing an MD in Radiology. Our team of highly professional experts assists students at every stage of the process to ensure a smooth and hassle-free experience.