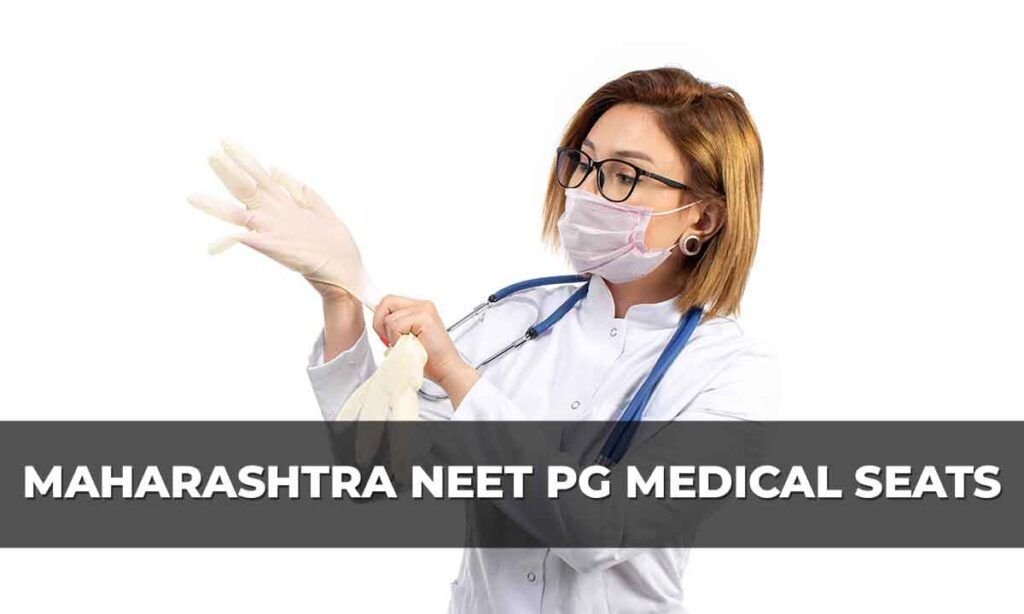 Maharashtra, the second-most populous state in India and the third-largest by area, is recognized for its thriving economy, with a high GDP that makes it the wealthiest state in the country. Additionally, it is the most industrialized state in India.
Candidates who want to register for the Maharashtra State NEET PG Counselling 2023, they can visit the official portal of the Directorate of Medical Education and Research (DMER ) located in Maharashtra.
Here is the list of top private , government and deemed medical colleges in Maharashtra. If you are interested in learning more about these colleges, please refer to the information provided below.
Read Also:
Haryana NEET PG Medical Seats 2023
Uttar Pradesh NEET PG Medical Seats 2023
PG Government Medical Colleges in Maharashtra
| College | District | Seats |
| --- | --- | --- |
| All India Institute of Physical Medicine and Rehabilitation | Mumbai City | 2 |
| Armed Forces Medical College | Pune | 195 |
| Bhabha Atomic Research Centre and Hospital Mumbai | Mumbai City | 22 |
| BJ Govt Medical College Pune | Pune | 213 |
| Bombay Hospital and Institute of Medical Sciences | Mumbai City | 24 |
| Dr Shankarrao Chavan Govt Medical College | Nanded | 104 |
| Dr Vaishampayan Memorial Govt Medical College | Solapur | 87 |
| ESI PGIMSR Mumbai | Mumbai City | 6 |
| Govt Medical College Akola | Akola | 52 |
| Govt Medical College Aurangabad | Aurangabad | 186 |
| Govt Medical College Chandrapur | Chandrapur | 54 |
| Govt Medical College Gondia | Gondia | 50 |
| Govt Medical College Jalgaon | Jalgaon | 15 |
| Govt Medical College Latur | Latur | 71 |
| Govt Medical College Miraj | Sangli | 100 |
| Govt Medical College Nagpur | Nagpur | 231 |
| Grant Medical College Mumbai | Mumbai City | 289 |
| HBT Medical College | Mumbai City | 50 |
| Indira Gandhi Govt Medical College Nagpur | Nagpur | 125 |
| Institute of Naval Medicine INHS Ashwini | Mumbai City | 44 |
| Lokmanya Tilak Medical College Mumbai | Mumbai City | 222 |
| MG Institute of Medical Sciences Wardha | Wardha | 72 |
| MPGIMER Nashik | Nashik | 52 |
| Rajiv Gandhi Medical College Thane | Thane | 39 |
| RCSM Govt Medical College | Kolhapur | 56 |
| Seth GS Medical College | Mumbai City | 281 |
| Shri Bhausaheb Hire Govt Medical College Dhule | Dhule | 51 |
| Shri VasantRao Naik Medical College | Yavatmal | 64 |
| Swami Ramanand Teerth Rural Medical College | Beed | 88 |
| Tata Memorial Centre Mumbai | Mumbai City | 93 |
| Topiwala National Medical College | Mumbai City | 160 |
| Yashwantrao Chavan Memorial Hospital | Pune | 49 |
PG Private Medical Colleges in Maharashtra
| College | District | Seats |
| --- | --- | --- |
| ACPM Medical College | Dhule | 26 |
| Ashwini Medical College | Solapur | 48 |
| BKL Walawalkar Medical College | Ratnagiri | 41 |
| Dr Panjabrao Memorial Medical College | Amravati | 52 |
| Dr Ulhas Patil Medical College | Jalgaon | 45 |
| Dr Vasantrao Pawar Medical College | Nashik | 74 |
| Dr Vithalrao Vikhe Patil Medical College | Ahmednagar | 39 |
| IIMSR Jalna | Jalna | 31 |
| Kashibai Navale Medical College | Pune | 100 |
| KJ Somaiya Medical College | Mumbai City | 18 |
| MIMER Medical College Pune | Pune | 45 |
| MIMSR Latur | Latur | 44 |
| NKP Salve Inst of Medical Sciences | Nagpur | 129 |
| Post Graduate Institute of Swasthiyog | Sangli | 4 |
| Sancheti Institute For Orthopaedics and Rehabilitation | Pune | 20 |
| Sanjeevan Medical Foundation ENT PGTI | Sangli | 3 |
| SMBT Inst of Medical Sciences | Nashik | 43 |
| Terna Medical College | Thane | 3 |
| Vedantaa Institute of Medical Sciences | Palghar | 96 |
PG Deemed Medical Colleges in Maharashtra
| College | District | Seats |
| --- | --- | --- |
| BV Deemed University Medical College Pune | Pune | 151 |
| BV Deemed University Medical College Sangli | Sangli | 81 |
| Dr DY Patil Medical College Kolhapur | Kolhapur | 92 |
| Dr DY Patil Medical College Navi Mumbai | Thane | 184 |
| Dr DY Patil Medical College Pune | Pune | 220 |
| JLN Medical College Wardha | Wardha | 191 |
| Krishna Institute of Medical Sciences Karad | Satara | 123 |
| MGM Medical College Aurangabad | Aurangabad | 99 |
| MGM Medical College Navi Mumbai | Thane | 138 |
| Rural Medical College and PIMS Loni | Ahmednagar | 105 |